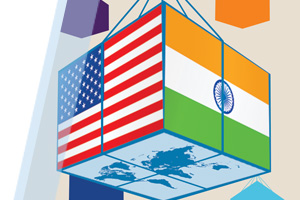 There are three countries that conduct in excess of 500 billion dollars of bilateral trade with the United States. Only one of them is outside North America: China. But there is another country that's making a strong case to join that elite group. If projections and recent rhetoric are to be believed, India will join China as the only non-North American countries in the $500 billion club by 2025.
That forecast is impactful to companies currently conducting business in India, but it's also meaningful to all companies that do international trade—especially those that have the potential to conduct business in India in the future. Shippers around the world seem fairly optimistic about growing their engagement with India.
However, anyone who has spent a day in India asks the same question: How? Congested ports, complicated regulations, less than optimal modal capacity, undesirable taxation regimes, dilapidated roads, and overall operational inefficiencies are constant sources of anxiety within the business community.
How is Global Shipping Growing in India?
The answer lies not in a herculean dream of global domination, but simply in mathematics. By 2020, India will be the youngest country in the world—over 65% of its 1.3 billion population is under the age of 35. India needs to create 1 million jobs every month to sustain the steady onslaught of people joining the workforce. The only reliable mechanism to create lots of jobs is large scale manufacturing, which is driven by exports.
In other words, India has a socio-economic imperative to grow international trade. And, because the United States presents the world's largest, most sophisticated base of consumption, India and the United States are natural trading partners.
The question still remains: How? Foreign trade and investment requires more than talent and education. It requires infrastructure, energy, friendly regulatory mechanisms, and the desire for a healthy return on investment (ROI). Government to government (G2G) interaction is all good and well, but sooner than later, business to business (B2B) interaction requires efficiency and expeditiousness.
After long years of lethargy, there is now some urgency to address some of the logistical challenges businesses are wary of. India is adding 14 km of new roads every day. Dedicated freight corridors to carry containers across the hinterland have picked up steam, ports are being renovated, tax regimes are being rationalized through a proposed goods and services tax bill (GST), inland waterways are being developed, and collaboration and intelligence sharing is happening as demonstrated by the recent Memorandum of Friendship and Understanding between Jawaharlal Nehru Port Trust (JNPT)—also known as Port of Nhava Sheva—and the Port of Houston Authority.
How to Take Advantage of Increased Shipping in India
A growing market in India means new business opportunities. Shippers should include India in their global shipping strategy by looking into new carriers, routes, distribution centers, warehouses, and customers and planning their supply logistics around them.
Contacting a supply chain expert can also be extremely helpful when planning for new Indian markets, as their expertise can direct businesses to what strategies will fit them best. Furthermore, where language and cultural barriers might have been an issue, a global supply chain expert has the resources to break down communication walls.
Finally, global shipping technology, such as a transportation management system (TMS), can help shippers gather, analyze, and make use of global shipping data— such as standard industry practices, popular routes, and spend trends— to create a data-driven shipping strategy for India. A TMS can also keep track of Indian regulations, which may change as markets grow, so that shippers can ensure their freight is compliant.
Final Thoughts
Some say that, at times, democratic procedures are impediments to development. For more than 60 years, this seemed to be the case in India. India is a stable, peaceful, and diverse country with a large and educated populace joining the workforce every day. Growing trade, specifically with the United States, is no longer a need festered in corporate boardrooms and government hallways—it is a socio-economic imperative.
Learn more about planning your international shipping strategy to fit India's growing markets.