Ocean freight demand on most trade lanes continues to decline or remain flat, with shipping rates following the same pattern.
Throughput Growth: 2000–2025F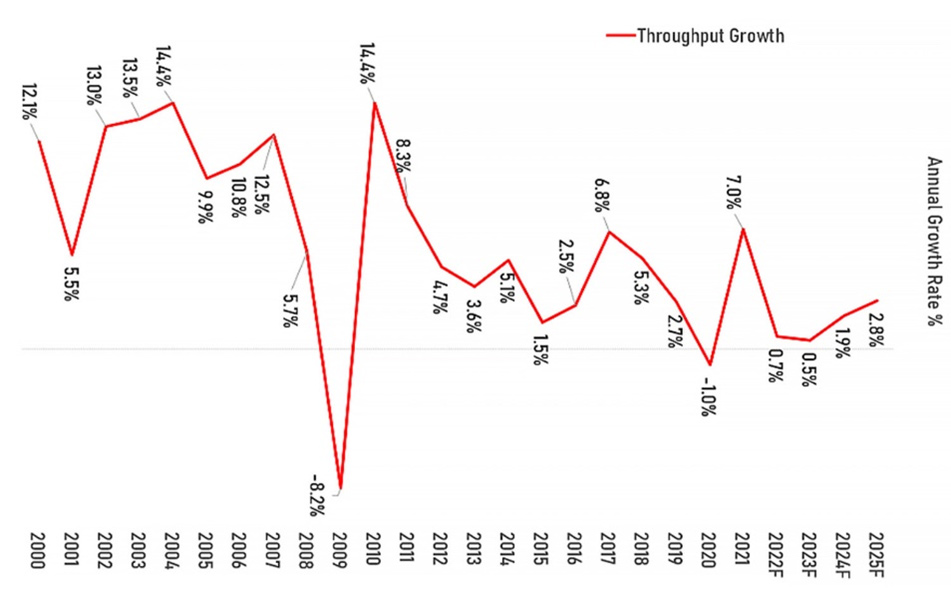 Source: Linerlytica
Steamship lines continue to void sailings to balance the supply. They are also starting to slow steam or take longer routes via the Cape of Good Hope on the backhaul legs of major east-west services. This will impact transit-sensitive commodities. 
Congestion is almost totally gone and space options and rate levels have dropped in favor of shippers. However, the need for some flexibility remains as blank sailings and service adjustments continue to impact lead times.
Global schedule reliability
Source: © Sea—Intelligence
Asia
The Asia-Europe trade utilization is stable to down. However, it is not substantial enough to maintain rates. Meanwhile, carriers are wary of the imminent introduction of new ultra large container ships (ULCS) into the Asia-Europe trade in the coming months.
Capacity utilization on the trans-Pacific trade lane remains below 85% on most services to all U.S. and Canada coasts. Rates continue to slowly decline to levels that are mostly unsustainable for steamship lines. The Asia-Latin America (LATAM) trade lane demand is stable to down.
Steamship lines continue to slow steam, mostly on the backhaul route, saving on fuel and absorbing capacity.
Europe
While the energy crisis did not impact the winter demand as drastically as forecasted, overcapacity continues to impact this region. Steamship lines have implemented service changes to optimize their coverage, differentiate services, and fill up ships with the right ports of call.  
North America
Imports remain soft year-over-year (Y/Y) due to inflation and normalizing demand from the largest importers, including retail, furniture, electronics, and home improvement. These industries represent over 50% of U.S. imports.
Still, the Y/Y comparisons will continue to show a dramatic drop since demand remained very high in the first half of 2022. For reference, based on arrival into the United States, February 2023 volumes were 0.3% lower than pre-pandemic levels in February 2019.
U.S. congestion has improved overall, with only a little bottleneck at some inland rail lines. As long as demand remains soft and port negotiations do not trigger major stoppages, congestion should stay at bay.
U.S. container imports from main Southeast Asia origins vs. China (2008–2022)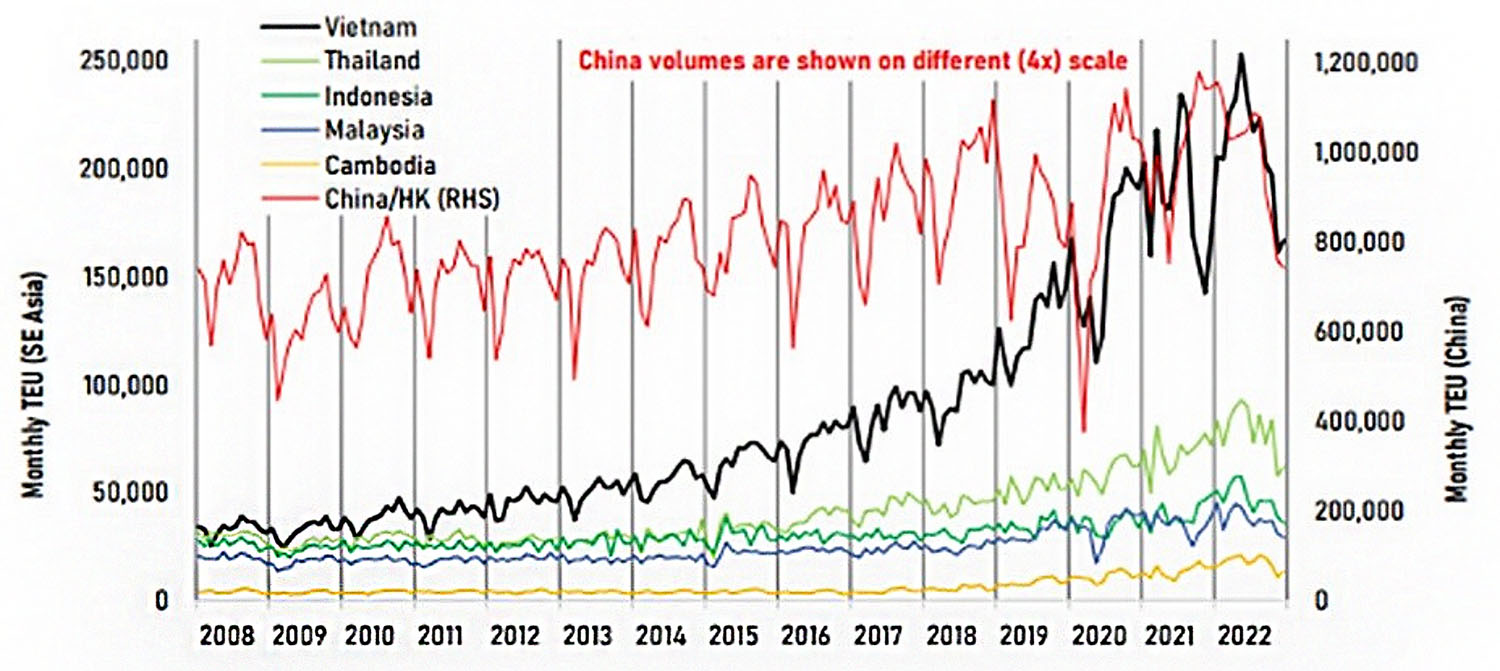 Source: Linerlytica
Oceania
The trans-Tasman market continues to be fluid with space and services opening gradually. The shuttle service out of Sydney and Brisbane has added tonnage to the lane, while the Focus Container Line to the trans-Tasman service introduction has increased options. 
U.S. to Oceania
The market continues to soften and rates will continue to slowly decline as carriers compete for market share. Space continues to be tight on the U.S. East Coast (USEC) but easing on the U.S. West Coast (USWC). 
The traditional peak season on the U.S.-Oceania trade lane is expected to wind down after the end of February, easing space issues. Port calls to New Zealand for exports from the USWC continue on a two-week basis, and transshipment service options are increasing.
Europe
The Europe export market remains stable, with space and equipment readily available for dry cargo. Rates are still gradually being reduced by all carriers as supply still outweighs demand.
Asia
Northeast Asia to Oceania continues to be in flux. Carriers are attempting to increase rates, but demand is not at a level to sustain increases. 
The post-Chinese New Year will likely be the next indicator as to whether carriers attempt more increases or resort to blank sailing programs.
Southeast Asia
Southeast Asia is in steady decline as demand weakens. Carriers are now looking at amending services, such as rationalizing port calls, to limit space and increase demand.
There are currently no reports of congestion in Singapore and Malaysia. Feedback from the lines report operations are normal and without major delays.
South Asia, Middle East, and Africa
Overall demand out of these regions remains soft.
Demand is fairly steady in India and Bangladesh, although much lower than last year. Pakistan demand is down severely.
Steamship lines are implementing service changes in this area of the world. Steamship lines are trying to optimize ship utilization and offer creative routes to attract cargo.
The main vessel operators on the India subcontinent to North America tried to push a general rate increase (GRI) for the beginning of March, yet the lower demand isn't likely to allow for such an increase to hold.