Global
In Germany, unionized port workers and the association representing the seaport operators agreed to terms for a new contract after one of the longest running labor disputes in Germany in decades. The tentative agreement came just three days before a cooling-off period imposed by the Hamburg Labor Court was due to expire.
This agreement removes the threat of further strikes, which have been disrupting operations in all the North Sea ports since June.
Average delay of late vessels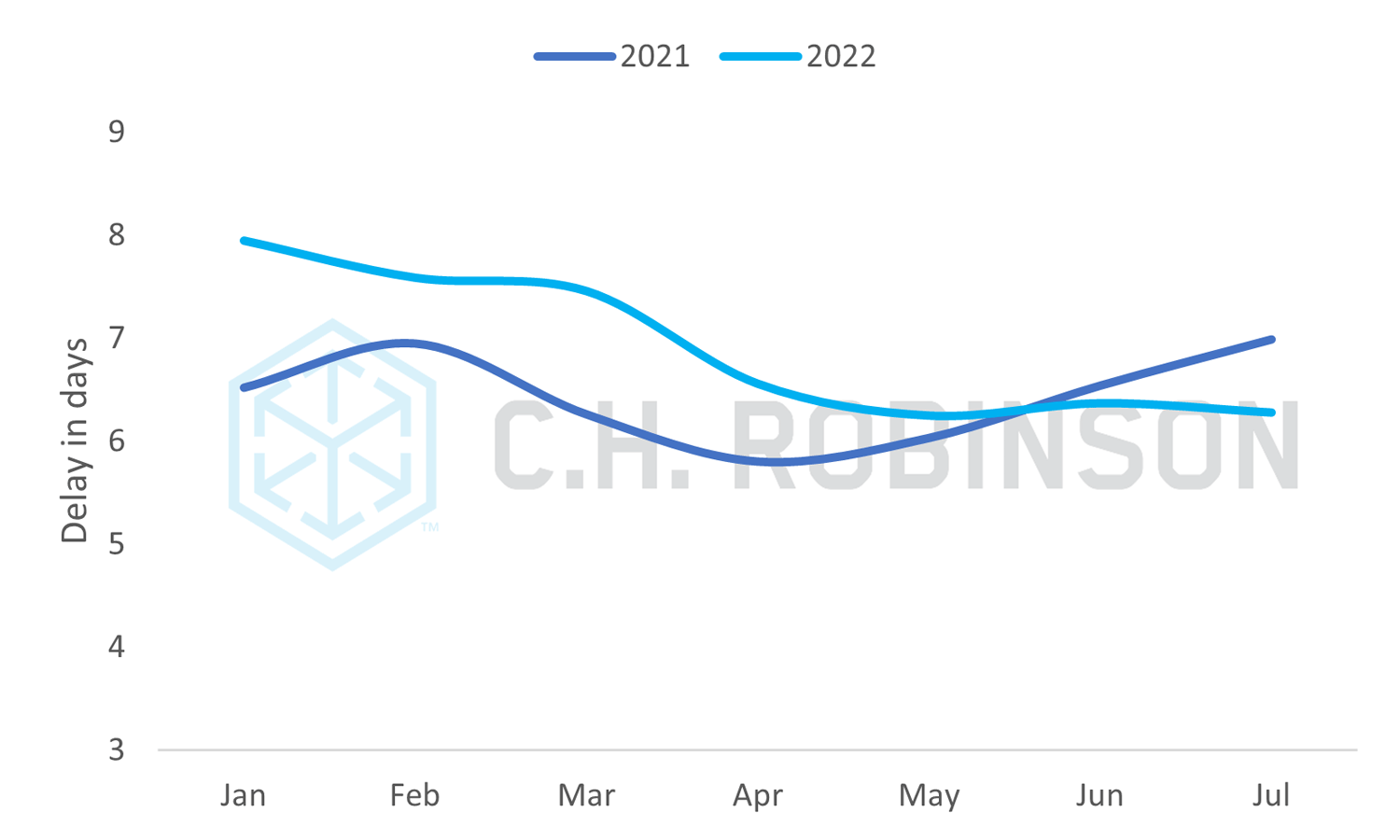 Source: © Sea—Intelligence Maritime Analysis
Carriers will use blank/void sailings, port omissions, and service rearrangements to mediate congestion and optimize their network capacity and fluidity.
Global schedule reliability

Source: © Sea—Intelligence Maritime Analysis, Global Liner Performance Report
While still very low, schedule reliability continues to show gradual improvement month over month. Overall, schedules will continue to remain challenged because of port congestion. Additional considerations to remember:
Forecast 6–8 weeks minimum
Prioritize freight
Maintain variability in SKUs/parts
Smooth volumes week to week
Add routing flexibility when possible
Communicate clearly with trade partners
Asia
Export demand out of Asia remains slow because of high inventory levels and inflation in North America and Europe. While the first week of October is the Golden Week Holiday, no significant pre-freight rush is expected.
Steamship lines will likely announce the holiday blank sailing programs this month for October. Rates are expected to keep trending downward.
Europe
Following the end of the August strike action at the largest port in the United Kingdom, the Port of Felixstowe, workers at the Port of Liverpool have announced a strike action from September 19 to October 3, 2022. As such, service backlogs in Northern Europe are expected to continue.
Despite the schedule issues and need for flexibility, peak demand out of Europe has been reached, and space options are gradually becoming available.
North America
Congestion continues to grow throughout the United States East Coast (USEC) due to a diversion of carrier capacity/vessels from the United States West Coast (USWC) on the Trans-Pacific eastbound (TPEB) trade lane.
The main reasons for sending more vessel capacity to the USEC are the ongoing congestion issues at USWC ports. Plus, there is demand from importers to diversify their supply chains against the possible risk of labor disruption at Los Angeles/Long Beach ports. This USEC congestion is the same or worse than the congestion currently experienced at USWC ports.
South America
Services to east coast South America ports have reduced capacity by approximately 25% and blank sailings to west coast South America ports have increased to approximately 32% of capacity, due to space constraints and severe congestion at the transshipment hubs.
Exports out of South America continue to be strong. For Europe, Asia, and South Asia services priority is given to specific commodities by the steamship lines. Oceania, Africa, and Middle East services are experiencing frequent schedule changes and service rearrangements as those lanes are not being prioritized by ocean carriers.
Demand to North America remains strong with congestion-related issues plaguing services at both origin and destination.
South Asia, Middle East, and Africa
Monsoon weather is passing through India and Pakistan this week. It is expected to lead to power outages, flash flooding, and disruptions to road and rail operations in the region. There has already been heavy rainfall throughout Pakistan, which has led to widespread severe flooding in a large percentage of the country. This will certainly impact the movement of cargo through Pakistan in the coming weeks and months, and delays should be expected.
Congestion at Bangladesh ports is worsening. Many carriers have either suspended or severely limited available space to this destination. Congestion surcharges are also being applied by ocean carriers at Chittagong/Chattogram port. These costs must be paid at origin.
Space out of South Asia and Middle East has eased on all trade lanes, but schedule reliability issues to destinations affected by congestion (U.S. and Europe mainly) continue.
Challenges out of Africa continue as well, including equipment availability issues, congestion, and blank sailings/limited berth times. Yet, space options seem to be improving slightly.
Oceania
There is some softening of the market in Southeast Asia. Demand is expected to remain steady and capacity is opening up. Pre-planning is still essential. Book AT LEAST 3 weeks, or more, in advance to avoid interruptions. Equipment availability remains tight, particularly for 40ʹ high cube (HC) containers.
The Northeast Asia market has softened. There are some changes taking place in the market with extra capacity now bedded in. Both added capacity and new services have had a negative impact on rates, but with demand still soft, carriers are starting to use omissions/blank sailings to halt rate declines. Expect this lane to remain challenging into the second half of 2022. Repositioning equipment has alleviated some of the difficulties in prior weeks.
The Trans-Tasman (TTZ) market remains strong with limited capacity—the addition of the new shuttle service out of Brisbane, Australia will add tonnage to the lane. Carriers continue to replace smaller vessels with larger ships. Even with service changes, the TTZ eastbound/westbound remains significant challenged for sufficient space.
North Europe, Mediterranean, Oceania (NEMO) services are experiencing heavy vessel delays. With the recent addition of a fourteenth vessel on the Direct (NEMO/Australia Express) service, expect some improvement in the scheduling over the next quarter.
Demand for Direct services should continue to be relatively strong for the remainder of the third quarter, with elevated rate levels. Transshipment services are showing some signs of weakening demand, but rate levels remain fairly stable with some lower spot rates available on specific ports and sailings.
Advanced bookings are still required 5–6 weeks out for the United States. Equipment availability in the main ports has improved, however chassis shortages continue to be an issue. Decreased import volumes from Asia will continue to impact equipment availability.
Cosco has announced the resumption of the U.S. to Australia trade lane and OOCL has indicated they will remove volume restrictions, which will add capacity to the lane.
Demand is steady, however, there has been a shift in export volumes, which may help to ease congestion at rail and port terminals.