EDEN PRAIRIE, MN (April 29, 2016) — C.H. Robinson, one of the world's largest third party logistics providers (3PL), has been named Carrier Partner of the Year by Dollar General.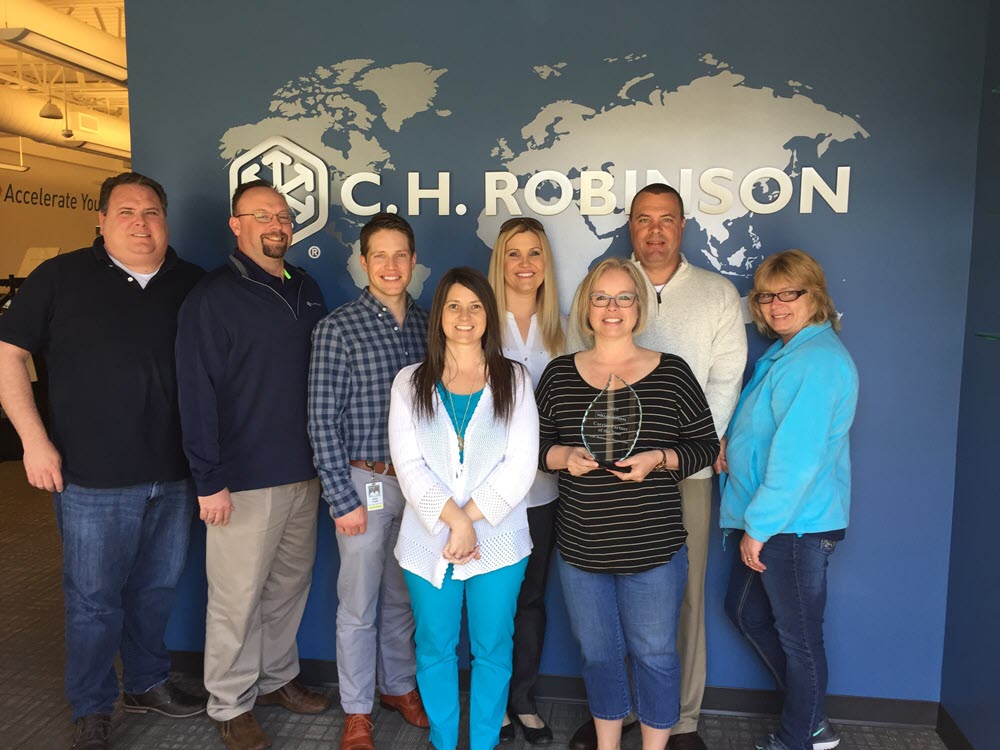 This recognition highlights C.H. Robinson's exceptional customer service and relationship with Dollar General.
"The team in Nashville is committed to going above and beyond for the customer every day," says Jeff Chessor, manager at C.H. Robinson. "Dollar General looks to us as a trusted advisor. Whatever it takes, we do. We are always looking for ways to sell new modes, create efficiencies for the customer and make it easier to do business with C.H. Robinson."
Dollar General honored C.H. Robinson with the award during a surprise presentation at its Nashville office. The two companies have been working together since 1999.
"The relationship C.H. Robinson has with Dollar General can be considered mutually beneficial," says Jeff Chessor. "As one of their core carriers, C.H. Robinson is looked upon to provide answers to any of their transportation questions or needs."
About C.H. Robinson
Founded in 1905, C.H. Robinson is a global provider of multimodal logistics services, fresh produce sourcing, and information services to over 110,000 customers through a network of more than 280 offices and over 13,000 employees around the world. The company works with more than 68,000 transportation providers worldwide. C.H. Robinson is a Fortune 500 company and had annual revenues of $13.5 billion in 2015.
Through the company and its Foundation, C.H. Robinson and its employees contribute millions of dollars annually to a variety of organizations, including the Juvenile Diabetes Research Foundation, Community Health Charities, American Red Cross, Children's Hospital and Clinics of Minnesota, and Global Impact. The company is headquartered in Eden Prairie, Minnesota, and has been publicly traded on the NASDAQ since 1997. For more information about C.H. Robinson, visit http://www.chrobinson.com.
###