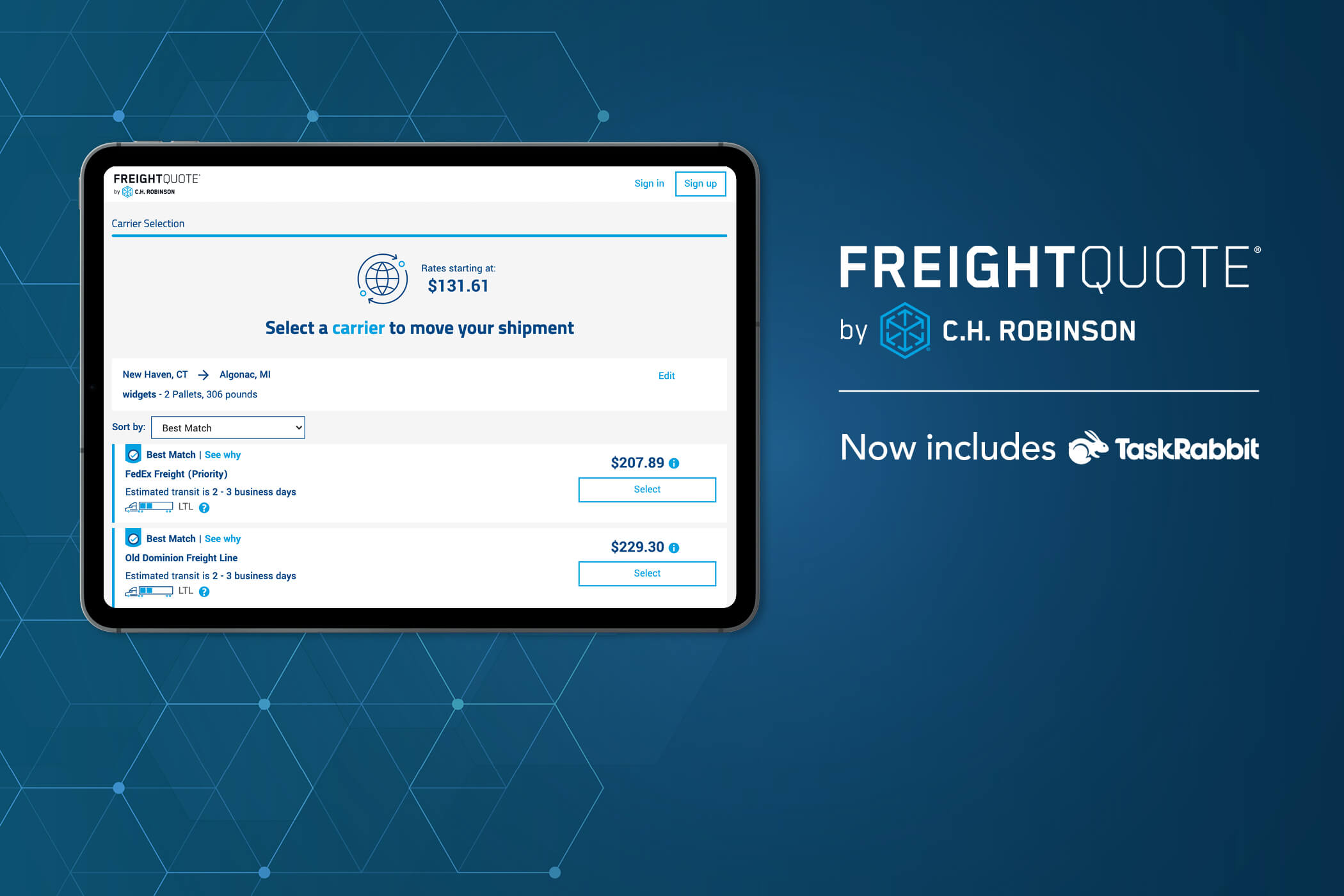 From big to small, our customers are at the center of everything we do at C.H. Robinson. Most people might think of us as working with the largest companies in the world – and while that's true – small businesses made up thousands of our customers last year. That's why we launched our self-service online shipping tool Freightquote by C.H. Robinson to help our small business customers.
And since we introduced it, we've been thrilled with the success we've seen. Users report saving half the time and money in booking their shipments, which helps us know we are on the right path. But we wanted to do more.
So now, we're taking it to the next level with new features that bring the digital transformation that has benefited large shippers to small shippers for the first time. And it couldn't come at a better time as small business owners face unprecedented challenges. They have enough things on their mind – finding reliable shipping shouldn't be one of them.
These technology-enabled enhancements are further automating the shipping experience for small business owners. From a single online portal, they can now get more shipping options than any other provider for everything from a single package to a full truckload – and everything in between.
No one else is providing the breadth of shipping options for small businesses that we now are. And we're not just simply providing these instant options, we're recommending what's best for the customer in a way that is easily understood and actionable. And then, we're making sure they have access to real-time visibility across any shipping mode they choose. They can rest easy knowing where their shipments are in every step of the process.
We've also created a new solution that answers a regular request from small business customers – do you have anyone who can help me package and prepare my shipment for pick-up? Now, with a first-of-its-kind integration between Freightquote by C.H. Robinson and TaskRabbit, together we're doing exactly that. We're taking TaskRabbit's model of trustworthy independent contractors who can help with everyday tasks and applying it to small businesses who need help to ensure their shipments are packaged correctly.
And it doesn't end there. Shippers who typically ship to or from residential locations can now choose to pick-up or drop-off their shipments at a trusted, local shipping hub to reduce their shipping costs. And we've created an interactive map and location recommendation service to help drivers understand if they will pick up or deliver to a residential or commercial area before the shipment is scheduled, significantly reducing the chances for a surprise service issue or additional charge while the shipment is in-transit.
We are going to continue putting our customers at the center of everything we do at C.H. Robinson. Know that we're continuing to listen to small business owners, and we'll keep driving outside-of-the-box solutions to help small business shippers save time and money so their energy can be spent on what matters most – making sure their businesses thrive.
To use Freightquote by C.H. Robinson for your shipping needs, visit freightquote.com.