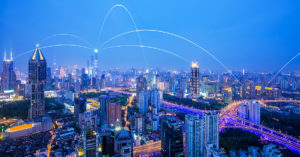 In any endeavor, there are varying levels of success. This is true for supply chains, too. And the right technology, specifically a transportation management system (TMS) is the connective thread that makes the highest level of supply chain success possible.
The good news is that you can have some level of success in these areas without a TMS, but to achieve the highest level of transportation success, a TMS really is needed. And in reality, it's extremely difficult to achieve proper carrier alignment, a strong execution strategy, and sufficient internal collaboration without the data a TMS can provide—domestically and globally.
ARC Advisory Group and other third party research firms have found that TMS and Managed TMS services are key to lowering transportation spend. But that's not all a TMS can do for your organization.
Understanding a TMS's power starts with data
The specific details a TMS can provide—on time performance insights, total costs, supplier performance, etc.—are only some capabilities of a TMS's power. The cadence of reporting also plays a role. Determining how often to run a report could mean the difference between capitalizing on an opportunity and missing one.

There's also the analytics and trends to consider. Understanding that delivery times are suffering is one piece of the puzzle a TMS can uncover, but with the right tools, it's possible to see a correlation between one particular warehouse and poor delivery times, which is by far the more actionable piece of information.
A TMS needs proper business processes to support it
There's more to the success of a TMS than just the system itself. Simply adding the technology isn't enough. You need strong business processes in place as well as cross-functional supply chain relationships that promote reflection and strategy to leverage those processes.

A TMS adds the most value when you use the information gleaned from it to manage and improve. And with solid processes in place and a collaborative team, that's exactly what should happen in your organization and with your transportation suppliers.
Hold providers accountable with a TMS
When working to build your TMS business processes, be sure to include every party that touches your supply chain, including internal supply chain functions, providers, suppliers, and carriers. You'll need their data and collaboration to properly benchmark and demonstrate areas that are/are not working as accurately as possible. You can't expect to understand what's contributing to underperformance with only bits and pieces of the big picture.

Bringing about supply chain changes, either internally or with external organizations, is always easier when the data is there to support your decisions. For example, when a transportation provider questions a change in their freight awards, being able to explain the situation with performance metrics can make the conversation go more smoothly.
Does your technology support transportation excellence?
Even if you don't have a TMS in place, you probably realize the importance of technology on supply chain success in today's world. But you also need to recognize just how much not having a TMS is holding transportation back from being able to truly contribute to your supply chain and organization's overarching goals. And then ask if it's worth it.