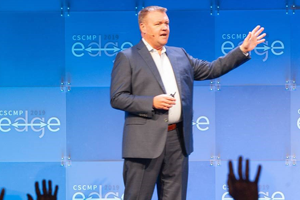 I always look forward to attending the Council of Supply Chain Management Professionals (CSCMP) Annual EDGE Conference. It's a great chance to hear from our customers about their challenges and opportunities, and discuss how C.H. Robinson can provide solutions.
This year was special for me. It was my first chance to really address our industry as CEO, and describe my vision for where our industry needs to go. In particular, I chose to speak about a topic I'm extremely passionate about—how technology is reshaping logistics. For those who couldn't make it, here is the gist.
Globalization is rapidly adding complexity to the supply chain and changing customer expectations. There is more data than ever, but it's only useful if leveraged to improve outcomes in the supply chain. Further, it's clear that advanced technology—including artificial intelligence and predictive analytics—is transforming the way products move to market.
While the pace of technological change is accelerating, none of this is new for C.H. Robinson. We've been identifying trends and helping our customers solve their supply chain challenges for years. In my remarks, I shared examples of where our technology, which is built by and for supply chain experts and powered by our information advantage, is already delivering smarter solutions. I also emphasized that our people will drive the technology and not the other way around because our experts know how the technology works, how supply chains really function and the intersection of the two. Ultimately, the future will be defined by tech plus: tech plus global expertise, tech plus local knowledge and tech plus industry-leading service.
With that in mind, I was also excited to make some news of my own. I announced our commitment to invest $1 billion in technology over the next five years, doubling our previous $1 billion investment in technology over the last 10 years. With more than 1,000 data scientists, engineers and developers, we are continuing to invest in global talent in this critical area, making an already strong team even stronger. When our tools are leveraged by the smartest and most relentless experts—who really understand and are committed to our customers' business—we create extreme value in the supply chain for our clients' benefit.
As CEO of one of the world's largest logistics platforms, I look forward to continuing to innovate and to solve logistics problems for companies across the globe and across industries, from the simple to the most complex.