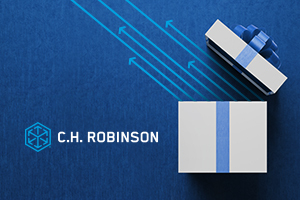 The holiday shopping season is in full swing, and for many of our customers, especially retailers, the holidays are "make or break." That means that seamless logistics is more critical than ever to get all of those packages to their final destinations on time. In the week before Thanksgiving alone, we see nearly a 10% increase in truckload volume compared to the rest of the year. For a company like ours that handles 18 million shipments annually–an average of nearly 350,000 shipments each week–that's a lot of must-have gadgets and toys that better be on store shelves come Black Friday. What makes these deliveries possible is having a partner that can reliably meet all logistics services and technology needs with tailored, market-leading solutions that drive better outcomes.
Here's where we come in. Our customers can take advantage of our experience, data and, scale to get their packages to their final destination. Whether from the first mile of the ocean vessel leaving port to the middle mile of a truckload crossing the country to the final mile getting gifts to the doorstep, C.H. Robinson is there every step of the way. Our single, global multimodal transportation management system, Navisphere, connects our entire network of 200,000 companies, providing customers with greater supply chain efficiency, real-time insights, and visibility. Our Navisphere technology makes it possible for us to solve logistics problems for companies across the globe and across industries, from the simple to the most complex.
That includes being able to anticipate the path of a winter storm to adjust delivery routes, address problems before they happen, and help shippers guarantee delivery on-time through a global visibility tool called Navisphere Vision. It also means we can help small and medium business owners find reliable multimodal shipping options to save them time and money through Freightquote by C.H. Robinson, a web-based, mobile-responsive offering specifically designed to streamline the shipping process. Through it all, we work with vetted, reliable, high-quality carriers to help companies stay competitive with omnichannel fulfillment, store distribution, home delivery, and, yes, even the returns.
Ultimately, though, none of this makes a difference without recognizing the people behind the solutions. Time and time again, our customers tell me they rely on our supply chain experts who act as an extension of our customers' teams, truly understanding their businesses and helping to solve their supply chain challenges. Never is this more critical than during the holiday season when the stakes are higher than ever for many of our customers. On more than one occasion, our team has gone the extra mile to make sure that the ever-popular Xbox, ever-present Elf on the Shelf, and countless other deliveries made it to their final destinations on time. I will never tire of hearing these stories–at any time of the year.
For that, I'm truly grateful. To our team of talented, dedicated supply chain experts who are committed to our customers' success, and to all of our customers and carriers who have chosen C.H. Robinson as their supply chain partner, I say thank you. I wish everyone a happy holiday, a wonderful New Year, and a strong start to 2020.