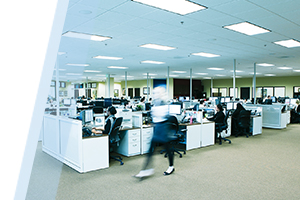 It's not every day that your employees stand up and say, "I love working here."  So we at C.H. Robinson couldn't have been happier when earlier this year C.H. Robinson was named a National Top Workplace by WorkplaceDynamics. The National Top Workplaces list was determined solely by employee feedback gathered through an objective survey in conjunction with 30 leading regional newspapers.
So what's our secret and how does having a Top Workplace impact our customers and contract carriers? The recipe is quite simple:  hire great talent, create an environment that allows for long-term growth, give employees the power to make decisions and drive their own career, and provide incentives that reward success.
Exciting Environment
We have a lot of pride in our dynamic work environment, which combines professionalism with fun, and promotes creativity and teamwork to achieve company and personal goals.  If you visit one of our offices, you'll experience a positive, energetic culture where people really enjoy their work and the people they work with.  An employee adds value as an individual by contributing to a team, and the team's goal is to make sure our customers and contract carriers are exceptionally pleased with the team's service. In addition, C.H. Robinson has a philosophy to promote from within. We think growing our own talent is good for our customers and contract carriers as well, because they want to see that knowledgeable, talented people who are providing great service are also growing their careers.
Empowered Employees
C.H. Robinson is a service company and a lot of what we do requires us to be focused on the immediate in our day-to-day efforts. We're solving problems and reacting to current needs and the current marketplace.  People react well when they're empowered. The desire to take action on their own separates an employee from simply executing daily work to strategically aligning themselves with a customer or contract carrier's objectives. There is great value in enabling people to take action and be rewarded in their career for contributing toward customers' or contract carriers' goals.
Performance based
For most of our employees, a significant portion of their compensation is performance-oriented, based on their team performance and their individual contributions to the success of the team. We believe this makes our employees more service-oriented and focused on our customers' and contract carriers' overall strategy. C.H. Robinson is an organization that needs to meet the expectations of 42,000 customers and 56,000 contract carriers. In order to do so, you need to have people who are flexible, agile and have excellent communications skills, and who drive themselves to high levels of performance, each and every day.
Customers and contact carriers that work with C.H. Robinson understand what our capabilities as an organization are, and they also have higher expectations of our people.  Being named a National Top Workplace reinforces our belief that we have the best people in the marketplace.