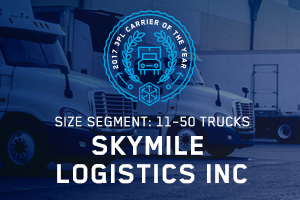 When you've worked with carriers as long as I have (22 years and counting), you learn how important relationships are. And you quickly realize that when you find good people to work with, you stick with them. Abdul at Skymile Logistics and his entire team are definitely a group of good people. And I've been lucky enough to work with them for nearly 10 years.

Carrier of the year: 11-50 truck segment
Today, I'm proud to announce that Skymile Logistics is our Carrier of the Year in our 11-50 truck segment. And let me be the first to say congratulations. But also, thank you. Thank you to everyone at Skymile Logistics for your decade of hard work and ongoing commitment to providing quality service.
I know that when Abdul says he's going to do something, it will get done—a trait that can be difficult to find these days. Everyone at Skymile Logistics believes in honoring commitments in the same way we do here at C.H. Robinson. They understand the importance of teamwork; and honestly, that's what we are. Even though we work for two different companies, we're still a team.
Who is Skymile Logistics?
Abdul started Skymile Logistics in July 2008. Like many carriers, they started with only one truck. And now, nearly ten years later, their fleet has grown to 25 trucks and 5 dry van trailers. The Skymile Logistics team has also grown in that time, but one thing hasn't changed: they've always worked with C.H. Robinson.
Abdul has told me on more than one occasion that he loves the choices C.H. Robinson is able to provide. He says his drivers often have more load options in lanes they want than with other providers. Beyond the load choices, when Skymile Logistics hauls for C.H. Robinson they know that the payment process is easy, straightforward, and fully trackable from beginning to end—which was especially important for cash flow as a growing company.
Commitment to technology goes a long way
I mentioned earlier that it's our ability to work together that sets Skymile Logistics up for success. But there's another aspect to it that matters almost as much: connectivity. And that connectivity must go both ways.
Abdul and his team need to see every shipment detail, payment status, and new opportunities on their end, just as I need to see where their drivers are, shipment statuses, and their scanned paperwork. And we can because Skymile Logistics is dedicated to using Navisphere®—whether on a desktop, smartphone, or tablet. Abdul has always understood the importance of changing as technology changes, and it shows in their service and automation scorecards.
Once again, congratulations!
For everyone at Skymile Logistics, whether you're a dispatcher, driver, or manager, congratulations! I'm proud to be your C.H. Robinson representative. I want you to know that I look forward to working with you every day.