CHICAGO, IL (October 27, 2017) — C.H. Robinson, a global third party logistics (3PL) company, and its Chicago offices contributed nearly $30,000 to a month-long, company-wide, employee-led giving campaign. The campaign raised a total of $791,000 for a variety of nonprofits. In addition to the Robinson Cares campaign fundraising, employees accumulated more than 1,450 volunteer hours, helping their neighbors in need.
At Chicago Central, employees chose to fundraise for Ann & Robert H. Lurie Children's Hospital, raising nearly $17,000 during the campaign and $108,400 to date in 2017. "C.H. Robinson has been a valued partner in our efforts to improve the health of the nearly 209,000 children who come to Lurie Children's for care each year," said Grant Stirling, PhD, executive vice president and chief development officer at Lurie Children's Foundation. "Philanthropic support by companies like C.H. Robinson also inspires others to give to Lurie Children's, enabling us to make advances in research and care, train new generations of specialists and allow us to advocate for the most vulnerable members of our community."
For over a decade employees have championed fundraising initiatives on behalf of the hospital, raising more than $1.3 million. "We not only raise money for a great cause, but anytime we can, we spend time at the hospital or doing activities to help brighten the patients' days. Those days create some of our best memories," said Daniel Quintela, strategic account manager at C.H. Robinson.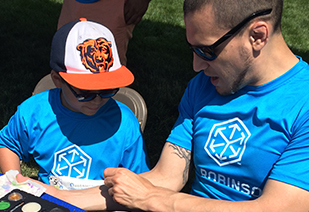 Employees at Chicago Global Forwarding volunteered 538 hours by packing meals for Feed My Starving Children, crafting greeting cards for Cards for Hospitalized Kids and writing letters for troops via Operation Gratitude. Additionally, they raised more than $10,000 for local chapters of the following charities: Wounded Warrior Project, Habitat for Humanity, Paws with a Cause and American Cancer Society.
"These organizations always need support," said Jessica Ruhlig, project manager at C.H. Robinson. "We were so excited to come together as one and make a difference for them."
The intermodal office employees volunteered over 100 hours with The DuPage Children's Museum cleaning, repairing and rebuilding items during the museum's annual maintenance shutdown period. "Having C.H. Robinson at the museum, almost every day during our maintenance period, was a huge help," said Jessica Greenlaw, volunteer coordinator at The DuPage Children's Museum. "Thanks to the team, we got through our entire maintenance list, which usually doesn't happen."
Since 2005, C.H. Robinson, along with its Foundation, has given over $23 million back to our communities.
"Our employees are the best in the industry — not just in their supply chain expertise, but their dedication to making an impact in their communities on the issues that matter to them most," said Angie Freeman, chief human resources officer at C.H. Robinson. "Because of them, we were able to support more than 250 nonprofits working locally and globally."
###
About C.H. Robinson
At C.H. Robinson, we believe in accelerating global trade to seamlessly deliver the products and goods that drive the world's economy. Using the strengths of our knowledgeable people, proven processes and global technology, we help our customers work smarter, not harder. As one of the world's largest third-party logistics providers (3PL), we provide a broad portfolio of logistics services, fresh produce sourcing and managed services for more than 113,000 customers and 71,000 contract carriers through our integrated network of 280 offices and more than 14,000 employees. In addition, the company, our Foundation and our employees contribute millions of dollars annually to a variety of organizations. Headquartered in Eden Prairie, Minnesota, C.H. Robinson (CHRW) has been publicly traded on the NASDAQ since 1997. For more information, visit http://www.chrobinson.com or view our company video.