MADISON, WI (October 26, 2017) — C.H. Robinson, a global third party logistics (3PL) company, and its Madison, Milwaukee and Green Bay offices contributed to a month-long, company-wide, employee-led giving campaign. The campaign raised a total of $791,000 for local, national and global charities. In addition to the Robinson Cares campaign fundraising, employees accumulated more than 1,450 volunteer hours, helping their neighbors in need.
Our Madison team raised $12,500. They hosted their second annual Superhero 5K Run and Family sMile event for nearly 300 participants. The event benefits the Leukemia & Lymphoma Society local chapter. Additionally, the office filled 500 bags of food for Blessing in a Backpack and raised money for the Dane County Humane Society. "We all get caught up in the rat race and think we have priorities," said Brian Robinson, general manager at C.H. Robinson. "However, we can't forget those whose main priority is to feed themselves and their loved ones. From what has been written and documented there is truly no worse feeling that the true feeling of hunger. We're proud to support our community and help our neighbors in need."
The Milwaukee office hosted the Driving Out Stigmas event attended by 65 people, raising $2,000 for the Grand Avenue Club, which trains and prepares people affected by mental illness to reenter the workforce and lead more meaningful lives. The organization has special meaning for employees who have lost family and friends to mental illness. Additionally, March 25th Trucking donated 100 bottles of juice to help the organization provide a warm meal to members who might otherwise not be able to afford one. "In our first annual Robinson Cares event, we exceeded our goal and had a great time in the process," said Tom Donovan, general manager transportation at C.H. Robinson. "And we're so thankful to our community, including March 25th Trucking, for helping us support a great organization."
The employees at the Green Bay office hosted internal events to raise money for Families of Children with Cancer and The Freedom House. Additionally, they volunteered at Paul's Pantry, distributing food to people in-need. "Our community is important to us, and it's important to us to give back to those who need a helping hand," said Monica Bitters, account coordinator at C.H. Robinson.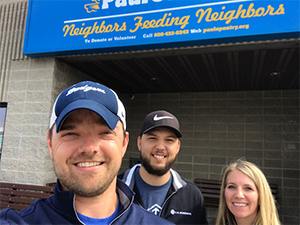 Since 2005, C.H. Robinson, along with its Foundation, has given over $23 million back to our communities.
"Our employees are the best in the industry — not just in their supply chain expertise, but their dedication to making an impact in their communities on the issues that matter to them most," said Angie Freeman, chief human resources officer at C.H. Robinson. "Because of them, we were able to support more than 250 nonprofits working locally and globally."
###
About C.H. Robinson
At C.H. Robinson, we believe in accelerating global trade to seamlessly deliver the products and goods that drive the world's economy. Using the strengths of our knowledgeable people, proven processes and global technology, we help our customers work smarter, not harder. As one of the world's largest third-party logistics providers (3PL), we provide a broad portfolio of logistics services, fresh produce sourcing and managed services for more than 113,000 customers and 71,000 contract carriers through our integrated network of 280 offices and more than 14,000 employees. In addition, the company, our Foundation and our employees contribute millions of dollars annually to a variety of organizations. Headquartered in Eden Prairie, Minnesota, C.H. Robinson (CHRW) has been publicly traded on the NASDAQ since 1997. For more information, visit http://www.chrobinson.com or view our company video.