RICHMOND, VA (October 26, 2017) — C.H. Robinson, a global third party logistics (3PL) company, and its Richmond and Roanoke offices contributed to a month-long, company-wide, employee-led giving campaign. This year's campaign raised a total of $791,000 for local and global charities. In addition to the Robinson Cares campaign fundraising, employees accumulated more than 1,450 volunteer hours, helping their neighbors in need.
The Richmond office hosted a raffle and other events that were open to the public, raising nearly funds for the following charities: Richmond SPCA and Connor's Heroes Foundation.
"We were proud to come together to raise money and help both of these outstanding organizations continue their good work in the community," said Paul Cook, consolidation manager at C.H. Robinson.
Employees at the Roanoke office volunteered at Feeding America, Southwest Virginia, processing 48,000 pounds of donated food. "The food we processed was shipped directly to local shelters and food banks three days later, giving us an immediate sense of purpose and accomplishment," said Helen Bower, sales executive at C.H. Robinson. "While we ended up having a great time, what meant the most to us was knowing that we were able to make a real difference in our community."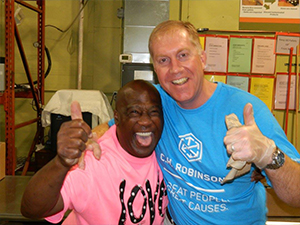 Since 2005, C.H. Robinson, along with its Foundation, has given over $23 million back to our communities.
"Our employees are the best in the industry — not just in their supply chain expertise, but their dedication to making an impact in their communities on the issues that matter to them most," said Angie Freeman, chief human resources officer at C.H. Robinson. "Because of them, we were able to support more than 250 nonprofits working locally and globally."
###
About C.H. Robinson
At C.H. Robinson, we believe in accelerating global trade to seamlessly deliver the products and goods that drive the world's economy. Using the strengths of our knowledgeable people, proven processes and global technology, we help our customers work smarter, not harder. As one of the world's largest third-party logistics providers (3PL), we provide a broad portfolio of logistics services, fresh produce sourcing and managed services for more than 113,000 customers and 71,000 contract carriers through our integrated network of 280 offices and more than 14,000 employees. In addition, the company, our Foundation and our employees contribute millions of dollars annually to a variety of organizations. Headquartered in Eden Prairie, Minnesota, C.H. Robinson (CHRW) has been publicly traded on the NASDAQ since 1997. For more information, visit http://www.chrobinson.com or view our company video.