EDEN PRAIRIE, MN (October 27, 2017) — C.H. Robinson, a global third party logistics (3PL) company, and its corporate campus and St. Paul and Sartell offices contributed more than $340,000 to a month-long, company-wide, employee-led giving campaign. The campaign raised a total of $791,000 for a variety of local and global charities. In addition to the Robinson Cares campaign fundraising, employees accumulated more than 1,450 volunteer hours, helping their neighbors in need.
Employees at the corporate campus held tournaments, sales and a 5K run and walk to raise $334,000 for the C.H. Robinson Employee Hardship fund, assisting employees in times of financial need, and the following charities:
"Our dedicated network of global supply chain experts truly go above and beyond to help the communities we are proud to call home." said Dan Ryan, vice president at C.H. Robinson and campaign co-chair. "I'm proud of their commitment to making an even bigger impact for our neighbors, and I look forward to next year's campaign."
The St. Paul office also held sales and tournaments to help raise $1,000 for the company's Employee Hardship Fund. "The money we raised will help our team members affected by the recent hurricanes," said Justin Jones, sales manager at C.H. Robinson. "I'm proud of our company and my colleagues for coming together to make an impact."
In Sartell, employees raised more than $7,500 for the following charities: Wounded Warrior Project, ALS Association, Anna Marie's Alliance: Women and Children's Shelter and the C.H. Robinson Employee Hardship Fund. The team also made 20 hand-tied blankets for Anna Marie's Alliance. "This experience is a win-win. We have fun planning and executing our campaign's events, and it helps our community," said Sheena Thieschafer, director of strategic sales at C.H. Robinson.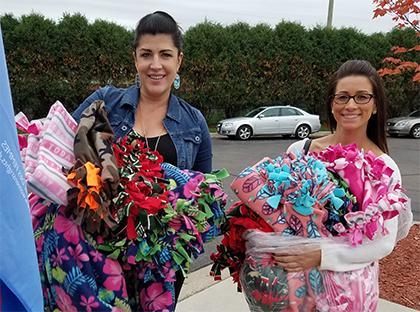 Since 2005, C.H. Robinson, along with its Foundation, has given over $23 million back to our communities.
"Our employees are the best in the industry — not just in their supply chain expertise, but their dedication to making an impact in their communities on the issues that matter to them most," said Angie Freeman, chief human resources officer at C.H. Robinson. "Because of them, we were able to support more than 250 nonprofits working locally and globally."
###
About C.H. Robinson
At C.H. Robinson, we believe in accelerating global trade to seamlessly deliver the products and goods that drive the world's economy. Using the strengths of our knowledgeable people, proven processes and global technology, we help our customers work smarter, not harder. As one of the world's largest third-party logistics providers (3PL), we provide a broad portfolio of logistics services, fresh produce sourcing and managed services for more than 113,000 customers and 71,000 contract carriers through our integrated network of 280 offices and more than 14,000 employees. In addition, the company, our Foundation and our employees contribute millions of dollars annually to a variety of organizations. Headquartered in Eden Prairie, Minnesota, C.H. Robinson (CHRW) has been publicly traded on the NASDAQ since 1997. For more information, visit http://www.chrobinson.com or view our company video.