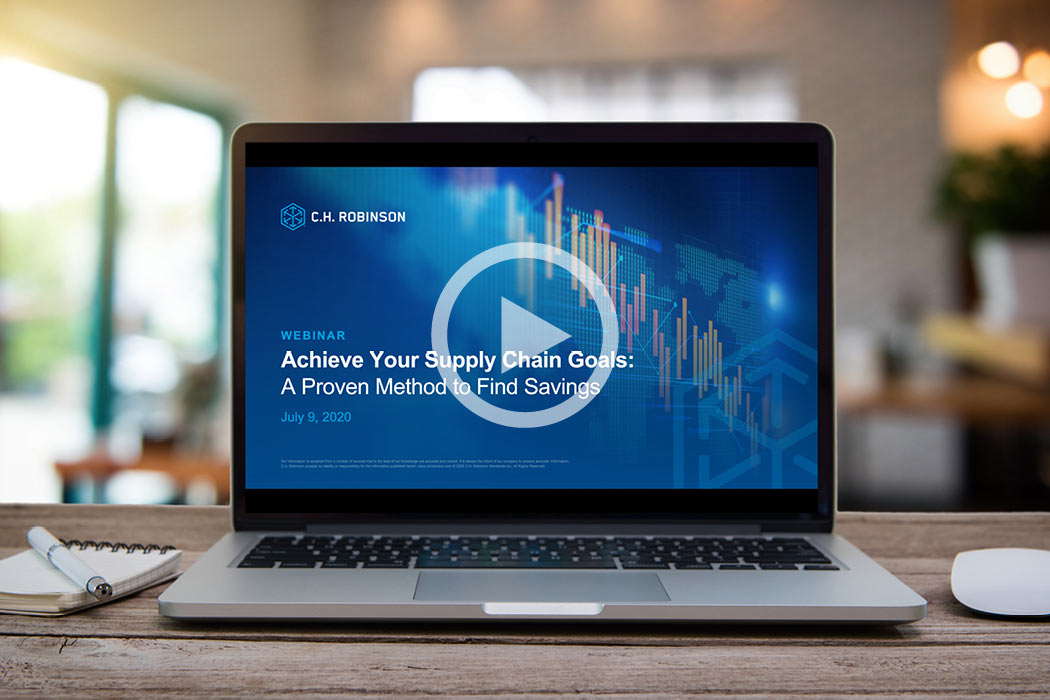 Now, more than ever, companies of all sizes and complexities need savings and efficiencies to overcome the many disruptions caused by COVID-19. The supply chain is a great place to start uncovering opportunities for improvement.
If immediate and long-term supply chain savings and efficiencies are a top priority, you're like many other organizations we work with every day. Which is why we recently hosted a webinar focused on this very topic.
Our supply chain experts were joined by industry leading shippers, J.B. Poindexter, West Marine, and Winnebago Industries, to discuss how C.H. Robinson has helped uncover savings that can be sustained over time.
You can watch the webinar recording in its entirety at your convenience. But I also thought it would be helpful to showcase a few of my favorite clips here to show how our method drives better outcomes for businesses.
4 Common supply chain priorities
As a global third party logistics provider (3PL), we work with the largest, most sophisticated shippers in the world. This clip covers some of the common themes that come through in discussions with our customers. How many of these themes resonate with your top priorities?
While these challenges may seem insurmountable on your own, we've come up with a four-part method to help focus on solutions that drive savings and efficiencies through the supply chain—and potentially an organization at large.
1. Start by understanding historical shipping data
As Matt Marthinson, chief procurement officer at J.B. Poindexter, shares in the clip above, once his team started aggregating and analyzing their data with the help of C.H. Robinson, we uncovered many areas of opportunity. He stresses that several of these turned out to be areas they hadn't even realized needed improvements before.
Matt provides a great example of just how powerful consolidation was for their business—from eliminating yard traffic and scheduling challenges to reducing costs from their bottom line.
2. Determine if savings opportunities are realistic

While some organizations suffered a slowdown in business from COVID-19, West Marine experienced a surge as people maintained social distancing by getting out on the water. This clip features a unique perspective from Mike Barrett, vice president, logistics at West Marine.
He explains how important it was to involve other teams in the assessment process—merchants, finance, business intelligence, and more. Once everyone had a say and understood what was taking place in the supply chain strategy the logistics team was able to understand the feasibility of solutions for the opportunities they had identified.
3. Evaluate how technology supports new processes

While technology is integrated into every aspect of our life, there are still a lot of challenges to bring digital solutions to life for supply chains.
I think Nick Schneider, director of supply chain assessment here at C.H. Robinson, describes the role of technology in a supply chain very well in this clip. He clarifies that while tech stacks will continue to grow in complexity, technology doesn't solve supply chain issues, but rather magnifies processes—for better or worse.
By focusing on process improvements first, it's possible to improve efficiency and performance through technology rather than simply layering a tool on top of a process that is lacking.
4. Mitigate risk of disruption during implementation
An unfortunate truth about implementing new supply chain strategies is that it's not always a smooth process. But that shouldn't hold you back from change. This final clip features Jack Scharrett, corporate strategic sourcing manager at Winnebago Industries.
He acknowledges that while the implementation phase of their assessment process was difficult due to internal difficulties, they recognized how powerful their strategy could be for the long-term and focused on doing the job right over getting it done fast.
Achieve your supply chain goals
For a closer look at how C.H. Robinson helped J.B. Poindexter, West Marine, and Winnebago Industries achieve supply chain savings, be sure to watch the full webinar recording. It also goes into more detail about the keys to a successful assessment.
If you're interested in learning more about how our four-part method can help you uncover supply chain savings, connect with an experthere.