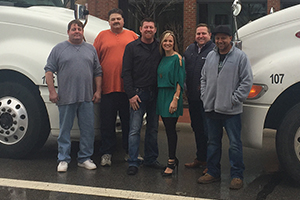 Late in 2016, we awarded six of our truckload contract carriers with the Key Carrier of the Year Award. Road Hogg Transport, LLC was one of the winners.

They were chosen because of their commitment to growth and expanding their service offerings to meet the needs of C.H. Robinson and our customers. As one of the winners, we wanted to feature a profile of Road Hogg Transport, LLC and get their take on the transportation industry.
Based out of Hilliard, OH, Road Hogg Transport currently operates seven different trucks, including four International 9400i, one International Prostar, one Peterbilt 387, and one Freightliner Columbia.
We interviewed Michael Roberts, who started the company just three years ago, to get his take on his business and the industry.
5 Questions with Michael Roberts, owner of Road Hogg Transport
What makes Road Hogg Transport unique?
We rarely say the word "NO." We are a business that takes pride in servicing our customer by going above and beyond what they ask of us. We want to be able to say "YES" at all times and continue to deliver the quality that they have grown to expect from us.
We will do whatever it takes to make sure that we follow through with what we said we were going to do. We work together as a team and make sure the work always gets done.
How do 3PLs impact your business?
In this industry, we are one of the newcomers. It's not easy to get started as a new small business and try to keep up with everyday demands. So, finding work and communicating with multiple customers would be challenging. C.H. Robinson helps me balance all of that so I can focus on running my business efficiently and effectively.
Is there an employee or truck driver you would like recognize?
I'd like to recognize Chris Hall who is my original driver and was very instrumental in getting us started. He's been with us from day one, which is a big deal to our company. Also, Sharnelle Mallard has played just as significant a role when he joined us shortly after. Both work hard with us each day and we cannot thank them enough.
What should the general public know about the trucking industry?
It's a far more difficult job than it looks as you are driving on the roads with one of our trucks. Our drivers and employees work very long hours to ensure that we deliver goods on time and in good condition. At times, it can be lonely. There can be stress from traffic and weather; and there can be added pressures from shippers and receivers that create long wait times and eat into drivers' hours. It is a rewarding industry to be a part of, but often is one that is misunderstood and underappreciated.
What industry or technology innovations have improved efficiency within your business?
We try to use technology in all parts of our business. It makes us much more efficient and better with our communication. We use electronic logs in every truck. All of my drivers use the Navisphere® Carrier mobile app and find it very easy to learn and use. Also, all of my trucks are equipped with a tablet and a printer/scanner so they can send in paperwork as soon as they deliver a load and the info can be uploaded to our customers in a very timely manner. Technology is a necessity to our company to keep us growing and moving forward.
For more personal accounts of the carrier industry, check out our carrier spotlight posts or look for the next winner profile, CJ Transportation.