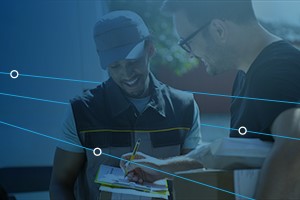 Crowdsourcing apps, same day delivery, and ecommerce trends continue to impact last mile delivery expectations. With this ever-changing landscape, cost-effective management of the last mile has become a challenge that needs a broader view.
Last mile home deliveries were once considered special handling services because they were infrequent and required special considerations to deliver a product to a consumer's home. But not anymore. Last mile home deliveries are ubiquitous today as illustrated by boxes piling up on porches across the country.
A great example of this change is the way Americans shop for furniture. Not long ago, people would take a Saturday afternoon to visit a furniture showroom, sit on several couches, fill out an order form, write a check, and wait six to twelve weeks for the sofa to be shipped to the store. Then they would need to set up a time for the sofa to be delivered, take the day off work, and wait at home for the delivery company for a considerable fee. Or they could pick up the sofa from the store with their own vehicle, one borrowed from a friend, or rented for the occasion.
Now, people can pull up the same furniture store's website on their phone, select the sofa they want, put in their credit card information, and have it delivered and assembled in-home.
Market Research.com reports that online furniture stores are becoming the fastest-growing channel at a compound annual growth rate of 16.6%. Two-day shipping standards for packages is impacting consumer expectations of large format deliveries. While this speed is typically too fast for non-conveyable items like furniture, many companies online retail stores are offering other benefits for consumers such as free delivery, installation, and even same-day pick up.
Changing proximity
Retailers need more than just capacity to respond to this growth; they will need precision capacity. The desire for faster home delivery has driven delivery networks to become more localized. The average length of haul is declining with the shift toward ecommerce. A recent study from The American Transportation Research Institute showed that many companies are trying to move fulfillment closer to their customers.
Navigating today's last mile of the supply chain ecosystem takes a holistic approach that brings together people, process and technology. This continued evolution will need innovative thinking and integration across the first, middle, and final miles of the supply chain.
New supply chain strategies
To meet these needs, supply chain strategies need to focus on "right-size" fulfillment footprints. This strategy can efficiently bring large format goods to residents the way they want and when they want.
Shippers also want the ability to deliver supply chain solutions that have fewer touchpoints to minimize product damage and maximize consumer satisfaction for their brands.
In the world of large format items, such as furniture or appliances, deliveries are not as simple as your average two-day online book order. For these investment purchases, consumers expect a high level of service including room of choice placement and assembly.
To achieve this shippers must rely on a broad network of reliable, high-quality home delivery carriers to represent their brands. The challenge is no one carrier has nationwide coverage under an individual banner. Effective communication through a single point of connection is crucial to consistently deliver quality service expectations.
Managing delivery exceptions for excellent customer experience
Given the nature of large format goods, there can sometimes be delivery exceptions. A couch may be missing a cushion, a television box might have a large puncture, or the consumer might experience buyer's remorse when an industrial sized treadmill arrives in their living room. All of these scenarios could lead to a refusal of that delivery.
How do you ensure a consumer gets swift resolution when something goes wrong at delivery? Your last mile provider should be able to handle the challenge of delivery exceptions and translate them into solutions on the spot.
It is important to have systems and mechanisms in place so a home delivery driver can capture the details of what happened, evaluate the condition of the product, and make the correct disposition decision for the product. This improves the customer experience as well as increases profitability for shippers.
Let's take another look at the treadmill example. The consumer second guesses their decision to purchase that large treadmill and refuses the delivery upon arrival. At C.H. Robinson, we have people, process, and technology solutions in place that allow the home delivery carrier to communicate the refusal in an efficient manner so the shipper can employ "save the sale" tactics.
The shipper might offer the consumer a discount or other incentives to reduce the chance that the treadmill will be returned. In case the consumer still refuses the item, the carrier can do a return on investment analysis then and there so the shipper can determine next steps for the product to mitigate financial loss and maintain customer loyalty for future purchases.
The return experience can make or break a consumer's loyalty, with 92% of consumers saying they will buy something again if returns are easy. An established exceptions and returns process allows shippers to be responsive to consumer needs. They can set expectations about when a return will be picked up, give visibility into the return process, and most importantly, provide insight into when consumer will receive credit for a return.
An end to end approach
It's important for your last mile logistics provider to take a holistic approach and apply best practices in supply chain strategy including home delivery. They should be a single point of connection to a broad range of carriers. This helps carriers optimize fulfillment processes while ensuring shippers meet the growing need for fast last mile home delivery — and does it in a cost effective way.
At C.H. Robinson we leverage our technology platform, Navisphere®, for the collection and analysis of real time delivery data. We provide insights that helps aggregate volume in the first and middle miles. From there, we can design seamless multi-leg modeling and deliver end to end visibility ensuring optimized cost and performance across the supply chain directly into the last mile.
The processes we have in place to manage delivery exceptions and returns allows us to make disposition decisions as close to the consumer as possible. C.H. Robinson's disposition process captures the reason and detail on why a delivery was refused so we can use that trend data in the future. We then share that data back with the shipper so they can make improvements to their delivery processes. This creates a seamless experience for the consumer.
Along with data collected in Navisphere, our supply chain experts take a customer-centric approach to the last mile of delivery. They dive deep to understand the unique needs of our customers, leverage the right carriers for those needs, and can quickly provide solutions for unplanned challenges throughout delivery.
Consumers have more freedom than ever around when and where they shop. They also have more control over when products get delivered and expect to be given visibility to the product's journey to their homes. Our full suite of logistics services and technology solutions allow us to provide integrated, end to end solutions that will help retailers build visibility and cost efficiency into this new consumer-driven landscape.
Learn more about C.H. Robinson's integrated solutions across the first, middle, and final miles.