North America Client Advisory – Coronavirus Outbreak
Last Update 4/06: New/updated sections include truckload content and maps.
A Summary of Government Affairs related to COVID-19:
Truckload (TL) Freight
Trucking continues to perform and Is flowing freely across borders and in and out of all markets, with some occasional capacity challenges to the hot COVID-19 hot spots
Social distance: Shippers and consignees can ask drivers to maintain distance and follow CDC best practices
Recommend some regular cadence of sharing business and market Insights between shippers and core transportation providers. The disrupted market continues to challenge optimized asset planning
Non-essential industry related capacity: Idle private fleets and carriers serving non-essential verticals are involved in the spot market in an effort to put revenue against assets and drivers.
Travel restrictions from certain states into others do not restrict trucking
Market Stress Indicators: The maps represent C.H. Robinson's view of North American market stress based on the impact of daily changes in transportation costs, supply, and demand.
New
Today's first map shows origin stress growth from weeks 13 to 14 in aggregate (Sun-Tues w/w). There are six stand out markets where pricing pressure is still highest against demand, those are Chicago-Milwaukee, Houston, So-central MO, SW Atlanta, Orlando, Philadelphia.
Origin City — Market Stress Indicator — Week over Week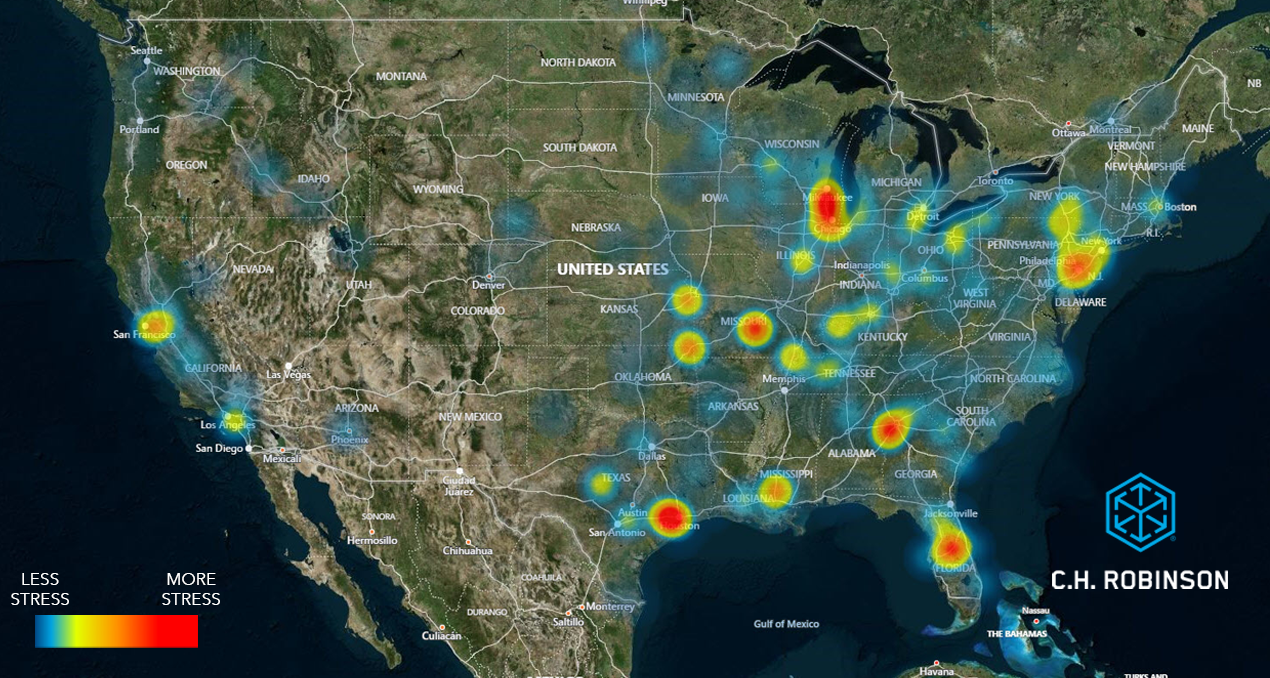 New
Today's Second map shows destination stress growth from weeks 13 to 14 in aggregate (Sun-Tues w/w). There are four stand out markets where pricing pressure is still highest against demand, those are Los Angeles, Memphis, broader great lakes area and No. East corridor from DC to Boston
Destination City — Market Stress Indicator — Week over Week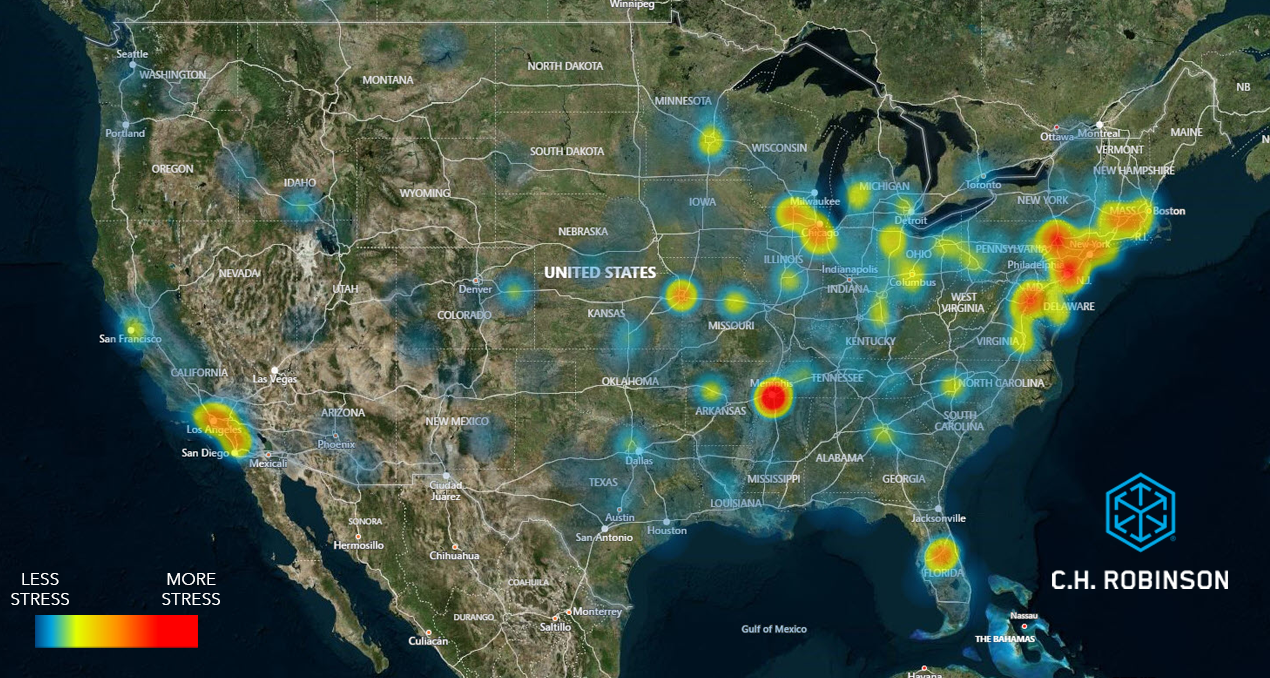 New
The below image is an origin state level route guide performance (seven-day aggregate view Sun-Tues w/w) benchmark based on truckload (TL) route guide data from shippers working with TMC, a division of C.H. Robinson. These large and global shippers utilize automated route guides through our Navisphere platform. This benchmark is representative of the broader committed market not the spot market. Today's summary shows broad state and national level settling of pressure. The most current USA aggregate Route Guide Depth (RGD) is higher than a recent low in February of 1.16 and March's high of 1.36, now at 1.24. This figure is a ratio of TL tenders to acceptances. For a 1.24 RGD, it currently takes about 12.4 tenders to cover 10 loads. Those 12.4 tenders include tenders to primary awarded service providers and rejected tenders that were sent to secondary providers before being accepted. (Note that WY and ND often don't have loads at the early part of the week amongst the clients in this data set.)
Route Guide Depth of Tender by State — Contract Freight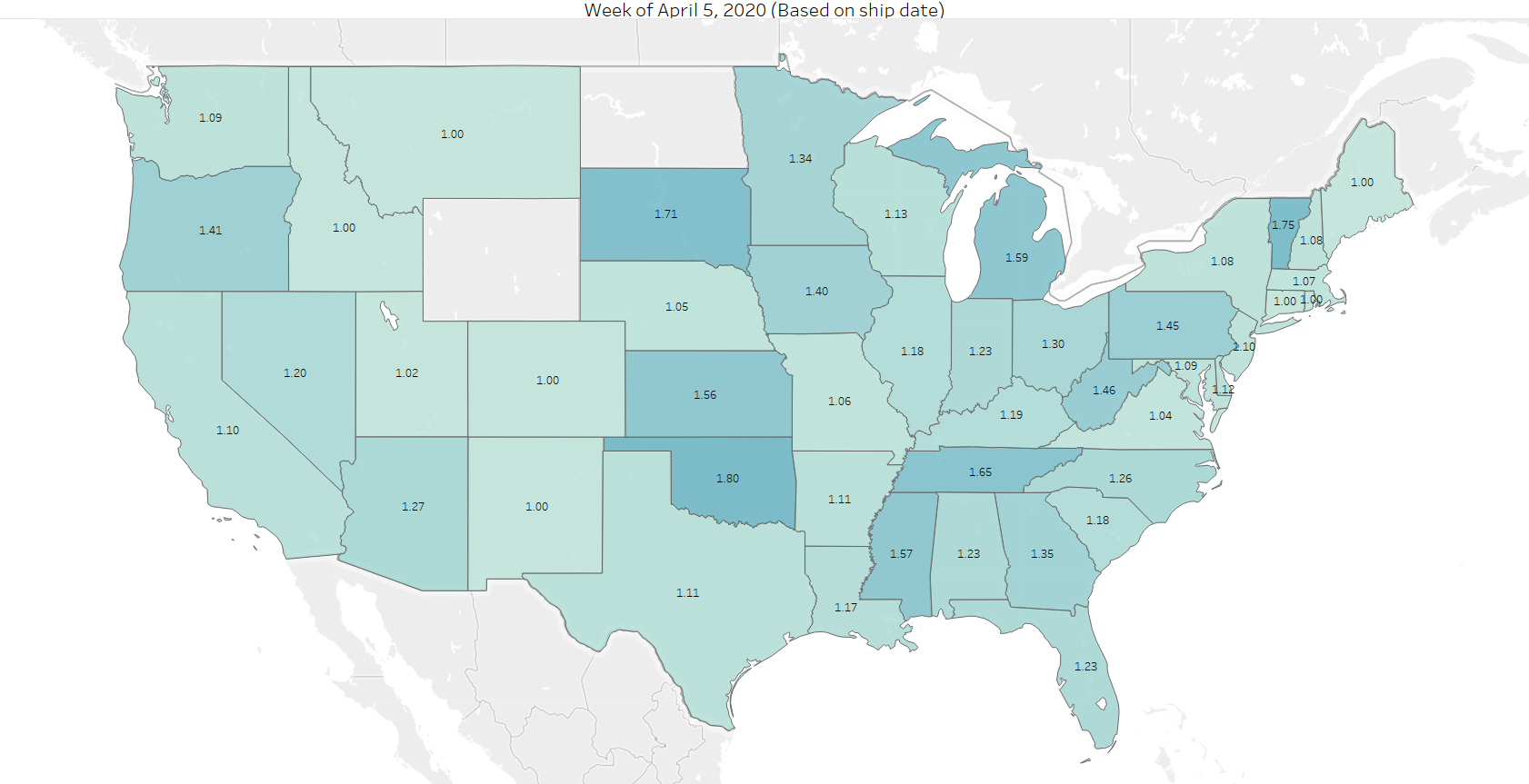 USA Refrigerated Truckload (TL)
Reefer capacity may benefit from delayed start of S.E. spring produce supply chains and project lower volumes of Mother's Day flower sales.
Current annual shift of produce growing regions from Yuma, AZ to Salinas, CA create some uncertainty of reefer demand for carriers resulting in experiences of over and under supply until transition is complete
Demand for non-produce perishable items has increased over the last few weeks which has contributed to tension maps above. We are finding this demand across temperature segments and in both TL and LTL.
Less Than Load (LTL)
Industry reports cite lessening shipment volume late in week 14 led by small business, industrial and automotive verticals.
Channel checks reveal that most carriers are trying to "right size" their networks to demand. Carriers are beginning lay-off or furloughing employees.
Service continues to hold up and benefitting from less traffic in metro areas. However, as carriers lose employees we expect service to become less predictable.
Carriers' continue to remain price disciplined and operating normally with contractual pricing.
The challenge the carriers are facing is freight in their system that can't be delivered due to consignee being closed, this freight will eventually start "clogging" the network. Carrier requests confirmation from the shipper/customer/3PL that consignee is open.
Carriers are restricting service offerings (guaranteed, expedited, money back guarantee, inside delivery, etc.).
n order to limit contact with drivers most BOL's are not being signed and signature on the delivery documents is generally not required.
Intermodal (IMDL) shipping
IMDL container and dray capacity are readily available and we are helping clients with a TL and IMDL balance strategies to address speed and inventory builds in response to health and consumer needs related to COVID-19.
IMDL planning is underway to address a planned Mid-April ramp up of container volume from China arriving at the ports.
Railroads and drayage carriers report resiliency efforts in play to ensure operation and are working with CHR on lanes and commodities of priority to support health and consumer needs related to COVID-19.
Cross Border
Canada–USA border insights
Recommend sending paperwork to the border at time of departure rather than wait until arrival to present. Customs is taking roughly 4 hours to clear loads
Team drivers have largely chosen social distancing, greatly minimizing team capacity
Capacity impact as a result of drivers choosing to stay home and declining longer hauls deep into the USA
Capacity impact from some larger carriers are parking some equipment
Mexico–USA border insights:
Mexico's Health Department issued shelter in place recommendations spanning the country through April 30.
Similar to the United States, Mexico has defined companies as either essential or non-essential (An example is components to an essential industry being labeled non-essential). Link to Government of Mexico – In Spanish
The essential business list is very similar to that of the United States. One major exception is that only non-alcoholic beverages are considered essential (Alcoholic beverages are considered non-essential).
Essential goods flowing north exceeds low southbound goods has capacity needing to be repositioned south to meet demand. As a result, northbound transportation costs are rising due to repositioning expenses of capacity from Laredo into Mexico
Customs and border crossings in both directions are flowing well. Agents of both countries are taking driver temperatures to reduce exposure risks causing slight delays at peak hours, supported by 500 National Guard troops supporting Customs and Border Patrol
Intra Canada insights
Carriers are seeking round trip bundles so as to minimize down time and social exposure risks
BC heading east volumes remain muted and unchanged largely attributed to low import volumes
We are seeing 30%+ of drivers sit out of this market as they have symptoms or don't want to risk getting sick, or don't want to deal with the current issues
Global Ocean and Air
China manufacturing activity expanded in March as the government eases restrictions on workers to go back to work. Some small and medium sized business are still shut down due to travel restrictions and mandatory 14 days self- quarantines are still in place and preventing some employees from returning to work
China to No. America is seeing uptick in ocean volumes now due to China coming back online, but as other S.E Asian countries, Europe & US go into Shelter in place &/or semi/full lock downs, this will effect US import & export volumes.
Import volume uptick will last till mid-April, for a couple weeks before slipping back down 2nd half of April & into May
Carries have started to announce Void/Blank sailings due to importers canceling bookings and/or pushing orders out into the summer months, as volume demands will come down.
Air capacity from Europe and China to the USA is constrained with passenger flights curtailed, even with some empty passenger aircraft being used for cargo.
As more non-essential companies shut down temporarily, general demand for air cargo is down, but lack of capacity is keeping rates high in all trade lanes.
(PPE) and COVID-19 test kits are being produced in central China. Shippers/importers involved with these products should check with CHR contacts on navigating the new export regulation of these products.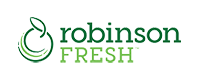 Robinson Fresh
Robinson Fresh a division of C.H. Robinson, is fully operational with no interruptions. Neither our international supply capabilities from Central and South America nor our domestic supply have been affected. Inventories are adequate, our distribution capabilities are fully functioning, and our sales and supply experts continue open lines of communication with growers and customers. Given our flexible supply strategy, we continue to meet the needs of customers inquiring products and solutions beyond what we have historically served them. Current areas being closely monitored:
Current areas being closely monitored by Robinson Fresh:
As Mexico announced shelter in place we are in close communication with our grower/suppliers regarding potential impact on harvest and shipping capabilities.
The U.S. Food and Drug Administration (FDA) has released a COVID-19 daily round-up releases to help share the agency's on-going response effort to the outbreak. Please see here for the news release here for news releases. Please see here for the news release
Following industry recommendations, the State Department announced Friday night they are taking additional steps to increase processing of H-2 visa holders through consulates around the world. In particular, they are waiving the interview requirement for first-time and returning H-2 applicants who have no potential ineligibility. In addition, the State Department is expanding the period in which returning workers may qualify for an interview waiver from 12 months to 48 months. Guidance on this and other H-2 questions can be found on USDA H-2A webpage along with a FAQ document provided by the Department of State.