USA Truckload (TL) Freight
Entering the fall season at weeks 39 and 40, we have crossed through an unprecedented period for society, business, and transportation. We have never seen a structural impact like COVID-19 and the corresponding governmental response. The market response and forecast are still underway. This week's report will continue as previous editions, addressing all modes participating and influencing the North American surface transportation market.
Hours of service changes take effect September 29th despite a pending challenge
As reported in August, new flexibility will be offered to carriers in terms of how they use their 30 minute and 10 hour sleeper berth breaks. Analyst estimates of impact range from 1-4% improvement for utilization of the fleet. It will take some time for the carrier community to learn how to use this new flexibility, so the tailwind benefit will be difficult to precisely feel against the portfolio of market elements and time of implementation.
Of note, three organizations and the Teamsters union have filed a petition in federal court challenging the final rule. The groups have expressed concern that the increased flexibility made possible by the final rule will exacerbate the issue of driver fatigue. The petition's journey through the court system will likely extend beyond the implementation date of September 29th. Source: Transport Topics
Spot market update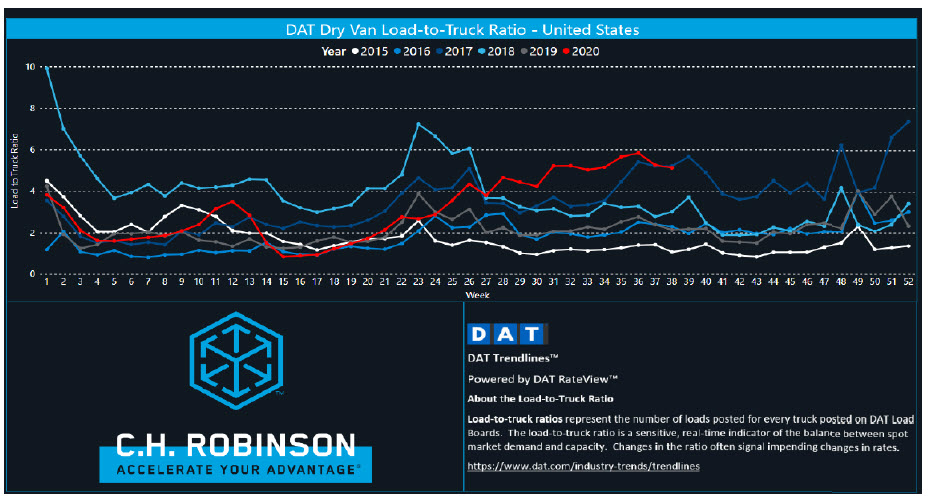 Since week 27, the van truckload spot market has seen the most imbalance of loads to trucks on DAT of the last six years, even exceeding 2018. While the spot market is somewhere between 15-25% of the for-hire truckload market only, it is seen as a very good proxy for balance of supply to demand and a leading indicator of the broader committed market. As we have addressed in previous editions of this report, what is creating this situation is supply not returning at the same pace as economic recovery. There may still be meaningful capacity on the sidelines due challenges in bringing drivers back during the pandemic and emerging job opportunities within industries such as home construction. As displayed in Cass' Shipment Volume Index (through August), the sequential growth of freight in the U.S. is substantial. It is this sequential growth that trucking is not able to respond fast enough, not the total volume that is taxing the system.
To conclude the conversation on trucking supply and demand, the following is offered to help round out supply: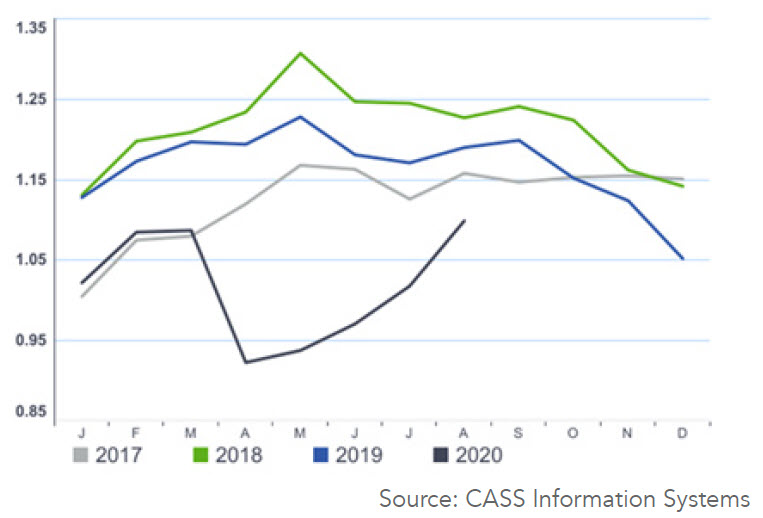 While tractor replacement cycles were paused earlier on in the pandemic, most dealers, fleets, and analysts don't expect long-term changes to purchase patterns1
Fleets are not working to make up the lost pattern, but rather restarting ordering patterns, leading to a total new truck sales estimate for 2020 that is likely below replacement needs1
Capacity at large, publicly owned carriers tracked by JOC.com dropped 4.4% year-over-year in the second quarter, contributing to tight capacity in the third quarter, the deepest reduction in JOC's Truckload Capacity Index since Q1 20102
It is not yet clear if some of the lost capacity in the larger carriers has moved to the smallest of carriers, thus bringing to question just how much market capacity has changed.
Route guide performance: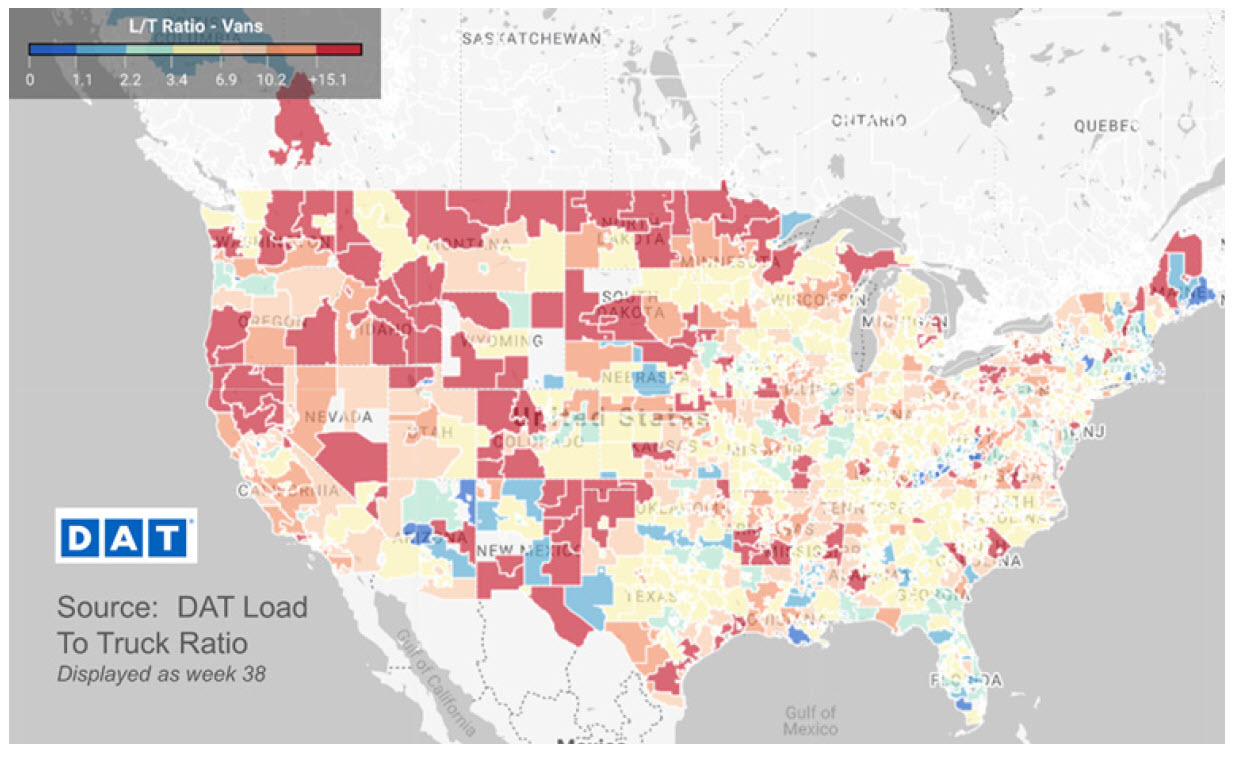 This week's map is again from TMC, a division of C.H. Robinson. It reflects week-over-week change in route guide tender acceptance. This is a lens to the committed market trends. An increase in the percent means that a greater percent of load tenders across the shippers in the dataset are being accepted deeper in the route guide than the week prior. As such, 28 of the 48 contiguous states saw greater erosion last week. States with prolonged and heightened tension continue such as CA, TX, and the greater Midwest. The route guide depth figure increased from 1.74 in our last report two weeks ago to 1.81. Across the sample set, it took 1.81 tenders on average for the loads to be accepted. Additionally, the Midwest saw the greatest challenge as a region at 2.22.
FTA (first tender acceptance) is similar, but describes only the first tender acceptance, where 100% means the first tender was always accepted and any percent lower is describing the success of the first tender only. The week of September 13th saw FTA ~55%, down from 57 two weeks prior and down from the mid 90's in April.
Route guides display one of the pillars of the economics of trucking - the impact of mileage on efficiency. As the market tightened, we saw route guide performance move from a similar strong performance across distance bands (short, medium, and long) to a divergent pattern. Most notable is the mid-length (400-600 miles) where carriers were showing increasing discernment, declining these tenders in favor of short or longer haul shipments. This distance band often challenges a driver with an overnight wait for unload and unproductive hours. But in the last couple of weeks, the long and medium haul distance are the leading contributor to the worsening route guide performance with shorter haul holding its pattern.
Markets of note
Again this week, we offer insights on the spot market in a visual format displaying origin markets in the U.S. This is DAT's Load to Truck Ratio aggregated to represent week 38. Trucking offers regional and corridor market experiences. As such, it can be helpful to have this perspective of origin market tension when reflecting on the current trucking experience. Consider that we continue to see the highest season load to truck ratio in six years with any market over a 5 as a meaningful tight market.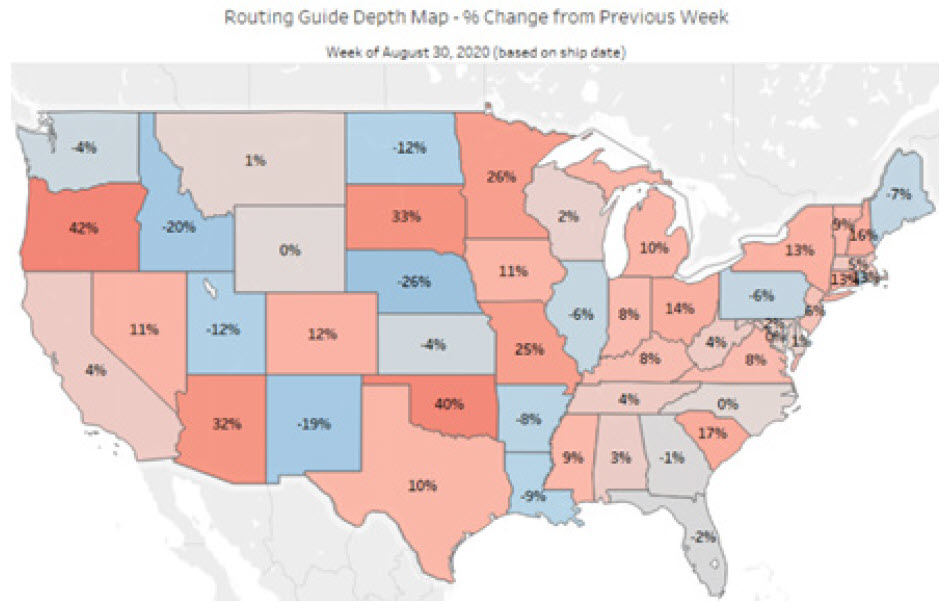 California outbound market has improved over the recent weeks with Southern TX continuing to be exceptionally tight due to the imbalance of southbound vs. northbound loads. That said however, most of CA is still a well out of balance situation.
U.S. temperature control truckload
Fall harvest and protein markets are in full swing with demand in the Midwest and the Great Lakes regions experiencing increased tightness to an already imbalanced market from products like apples and turkeys. Fall temperature truckload season lasts from Mid-Sept through year-end
Midwest (WI, IL, MN, MO, IN) states are markedly tight for short lead time supply. We are finding that 2-3 day lead can improve access to capacity and minimize cost exposure
CA to AZ is proving to the most challenging, with trucks requiring lengthy repositioning efforts and costs to offset as there is a material imbalance of freight flows in this corridor
Loads into So. CA, So. TX or the Midwest are attractive lanes with available capacity
U.S. Flatbed truckload
Supply:
Similar to the broader truckload market, idle supply is understood as key to today's market tension
Week 38 flatbed spot market truck postings down 40% year-over-year according to DAT
Demand:
Industrial and manufacturing segments continue to lag retail industry in recovering to pre-COVID levels, further supporting the analysis of lower total demand against lessened active supply
New home construction has hit a 10-year high watermark. Source: trading economics
Truckload summary
In this time of a stressed market, growing economy, and forecasting challenges, we commend our clients to best practices that have been correlated to performance as found in our academic research. Research suggests that maintaining an annual cadence of route guide renewal with a rationalized supplier base of high-performance provider(s) having clearly defined roles will result in the best transportation plan performance. Strategy is the key to realizing the best any market has to offer. Your C.H. Robinson representative can introduce you to our research and our sophisticated procurement approach, Procure IQTM where our clients gain insights to how their freight aligns with the market and C.H. Robinson's customized capacity strategy.
USA Less Than Load (LTL)
Volumes remain strong through August with strong e-commerce forecasts and favorable signs from manufacturing suggesting continued strong demand through the end of the year
Capacity is the primary concern for the LTL carriers as we head to the season peak retail season. Carriers are sending rate increase signals in an effort to attract and dissuade freight to the goal of keeping volume at their capacity constraints and maximizing profit
FedEx, typically one of the first to announce GRIs, announced a January, 2021 GRI last week. We expect other carriers to follow suit throughout the remainder of the year
Due to end of month and end of quarter, we recommend that clients prioritize shipments. Highest priority shipments will be well served to ship a few days early and consider guaranteed service
Parcel
Parcel networks continue to operate at or above capacity levels
Continued e-commerce and holiday growth bolster parcel carriers' price increases, surcharges, and relaxation of guarantees
January 2021 increases are being proposed across the parcel industry and range from 4.9% to 5.9% across product lines
Contact C.H. Robinson's parcel team to assist with your 2020 peak season surcharge and 2021 GRI impact analyses
Intermodal (IMDL) shipping
Intermodal is experiencing similar core challenges like truckload due to irregular and evolving demand patterns, making it extremely difficult for railroads and IMC's to place container placement. Top out of pattern influencers include parcel carriers increased use to keep up with ecommerce growth and PPE products.
Western Ports (So. CA and No. CA) experiencing a wave of inbound shipments; with chassis and driver shortages, is developing a backlog at port facilities
Capacity/driver shortages in the Northeast and Midwest are developing due to dray companies opting out of investing in the market—an increase in drayage rates are likely to hit the market soon
Lanes into So. CA are very attractive lanes as they feed capacity to the region. C.H. Robinson has achieved favorable, market competitive rates to convert truckload to rail in lanes that feed capacity into So. CA. We are reloading every container we drive into So. CA
Cross Border
Intra Canada and Canada–USA border insights
Essential travel, including trade shipments, continue while the non-essential travel ban was extended until October 21st
In the industrial goods market, the U.S. backed off tariffs on Canadian Aluminum.Source: BBC
U.S. to CA border truck arrivals slowed during the week of September 7-13 dropped by 16% year-over-year
Mexico–USA border insights:
Northbound from the border continues to be short of capacity resulting in elevated spot pricing
Imbalance of Mexican southbound freight results in tension and repositioning of empty capacity
Empty capacity is being repositioned on both sides of the border
USCBP prepares for $40 million expansion at Pharr Port of Entry.Source: Freightwaves
PPE Insight: Hand sanitizer products continue to be challenging due to FDA requirement for importers to comply with destruction of products containing methanol. This can apply to all shipments from a manufacturer with a cost to destroy each shipment upward to $45,000 due to the few hazmat destruction sites available
Global Ocean
Strong ocean market conditions continue with high demand patterns through Q3, anticipated to continue into early Q4. As a result, we observe a considerable amount of congestion and lack of chassis in the Pacific Southwest and selective inland locations
Tech releases (phones, laptops, game consoles) will create meaningful demand gearing up for the holiday season in early Q4
The timing of vaccine production is uncertain, but airlines will be eager to make capacity available for them when they are ready to ship

Robinson Fresh

The Robinson Fresh supply team remains fully operational with no interruption to supply and service levels for our customers and growers. There are minor interruptions as it relates to fresh produce moving into the U.S. Inventories are adequate and our distribution capabilities are fully functioning.

We are no longer seeing aggressive SKU rationalization in the retail vertical. However, we have yet to see all of the SKUs that were rationalized return to the shelf. Retail purchasing patterns have normalized, especially for small and medium retailers. Direct store delivery requests continue to be highly variable with some retailers pushing hard in this area while others have closed their programs and shifted resources elsewhere.

For other client advisories, please review our Client Advisory page In this time of extreme difficulty predicting the economic recovery and transportation response, we offer a quote from Professor Yossi Sheffi from MIT's Center for Transportation and Logistics on an April 14 webinar, "You can't really predict. You can only react very quickly." We Invite our clients to engage your C.H. Robinson or TMC commercial representative for collaborative strategies that offer quick and effective response. Our modal expertise and portfolio afford for elasticity in full and partial load shipments to help minimize service disruptions in this unique market.

Thank you for being a valued customer. If you have any questions, please do not hesitate to contact your C.H. Robinson or TMC commercial representative for further information.




1. COVID-19 Pandemic Stalls Replacement Cycles, But Industry Expects Rebound for Next Year, Transport Topics Sept 15, 2020

2. Capacity cuts at large US truckload providers deepen in Q2, JOC.com Sept 18, 2020