TOP STORY: Upcycle continues: 2022 volume forecasts outpace supply growth
Most often, after reaching a truckload market peak, pricing relaxes amidst decreased pressure as new investment in capacity catches up to demand or puts the market into an oversupply state. Today's market is recovering in the labor sector thanks to the impressive efforts from the trucking community to offer increased compensation and get drivers home more often.
The challenges to seating trucks are far from gone, but as trucking labor recovers from COVID-19 losses, the next issue becomes tractor growth.
As analysts look at the semiconductor backlog, which directly impacts the manufacturing of new Class 8 tractors, forecasts suggest that increases in freight volume will outpace growth in active capacity.
It does not look like 2022 will bring a year of oversupply, but January 2022 forecasts are already higher than December 2021. The following table shows truckload spot market forecasts by analysts and how they have moved in the past year.
| | | | |
| --- | --- | --- | --- |
| Analyst | June 2021 | December 2021 | January 2022 |
| ACT | -9% | -3% | 2% |
| C.H. Robinson | N/A | 4% | 6% |
| FTR | -10.7% | -2.5% | -2.5% |
The increase from 4% to 6% in the C.H. Robinson model comes mostly in the first quarter and the beginning of the second quarter. The factors that put the greatest pressure on the first half of the year are:
The current Omicron wave
Truck drivers slow return from the year-end holidays break
Very active winter storms
Robust freight volumes.
The balance of the year is currently holding the forecast as we have published the past couple months and is influenced by declining quarterly GDP growth rate forecasts and some slow shift of spending on products to services.
If actual freight volumes come in lower than the expected 3–5% increase, or if more tractors and drivers add to the active capacity pool, then pricing could be lower than expected. Conversely, greater demand growth and supply stagnation would likely bring about greater increases.
The chart below represents the C.H. Robinson van spot market forecast. It displays relatively normal seasonal movement of pricing over the year.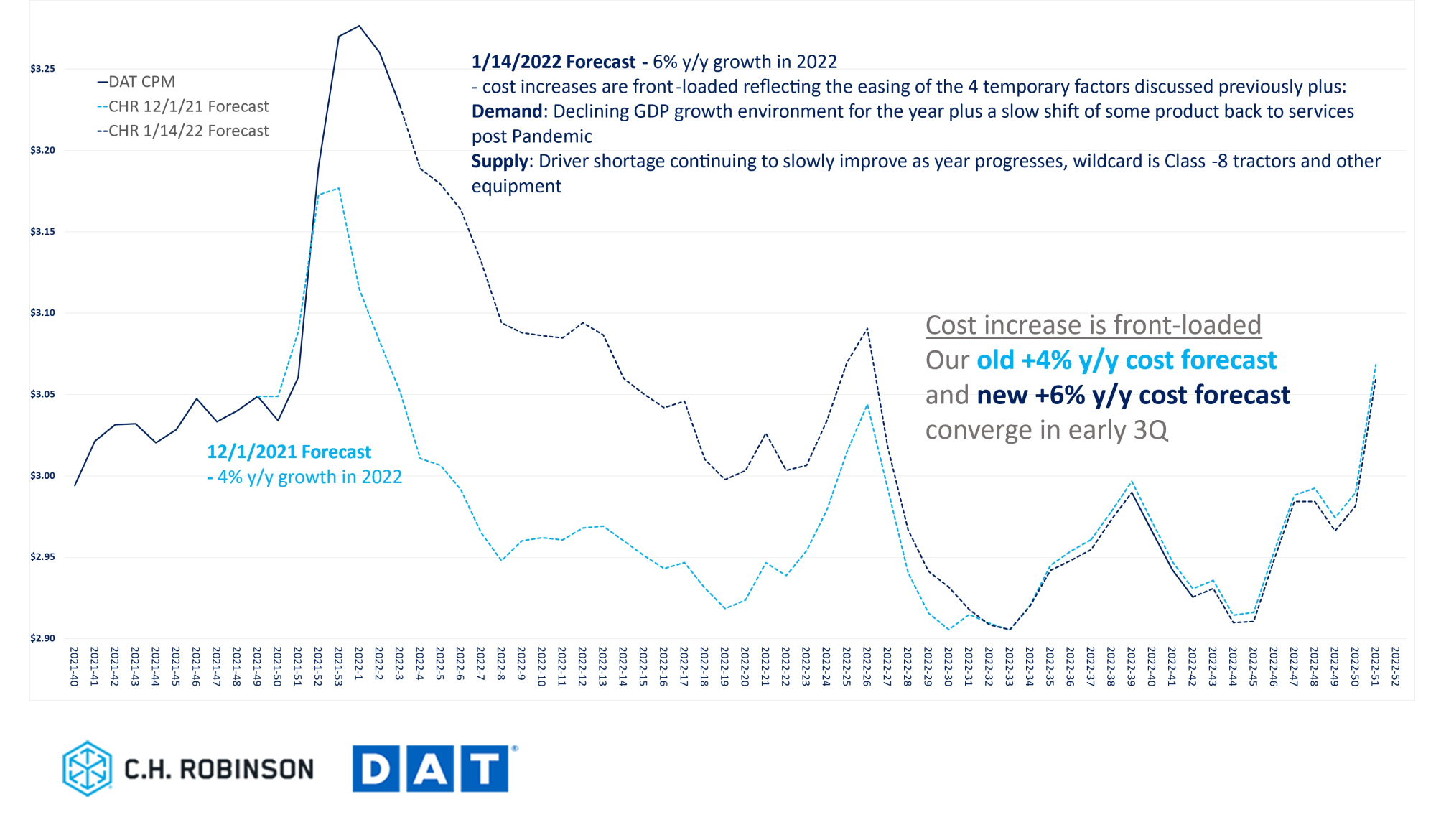 Imports and inland transportation
Backlog at North American ocean ports continues
Continued strong import volumes and staffing absenteeism due to COVID-19 Omicron related illnesses are contributing to backlogged ports. The Wall Street Journal reports 10% of port labor at Los Angeles/Long Beach is impacted.
Factory and terminal closures in China
Volumes into the ports and the resulting demand on cross docks, truck, and intermodal services will likely continue into and through February. With less than a month to go until the start of Lunar New Year (first couple weeks of February) and the Beijing Winter Olympics (February 4–20, 2022), factories and terminal closures are expected, which could potentially further impact ocean freight services already beset by restricted capacity, cancelled sailings, and equipment shortages at China origins.
Anticipate the month of February (loadings in China) to generally slow until the last week of February when operations will gradually resume back to normal. Specific to the Beijing Winter Olympics, expect factory closures in Beijing's vicinity, mostly in Hebei province, especially factories in heavy industry to curb pollution.
Increased customs inspections in Beijing
There will also be increased customs inspections for imported goods into Beijing (Tianjin Port) during this time. Plan for possible delays, especially for dangerous goods during the leadup and entirety of the Olympics.
Lower than normal volume is an opportunity for U.S. ports
The net result of closures in China means the opportunity for North American ports to work through the backlog of vessels and grounded containers in February and early March.
Anticipate continued strong demand for surface transportation and logistics services during this time.
U.S. airports face operations challenges
In recent weeks, airports have also faced labor challenges (for both terminal employees and drivers) because of COVID-19 cases. This adds to airport congestion.
While lower than normal demand does mitigate these challenges to some degree, plan on longer lead times (the time it takes for the airline to make cargo available for surface transportation).
Currently the airports with the longest dwell time include:
LAX is at 4–6 days of dwell with some terminals up to 14 days
ORD, DFW, ATL, and JFK are experiencing roughly 2–4 days of dwell time
Spot market, committed market, and capacity insights
Spot market under continued pressure
All three primary truckload segments continue to display unprecedented load to truck ratio (LTR) tension. The charts below show six years of DAT's LTRs. The red line represents the first three weeks of 2022.
A 3:1 LTR for dry van can be considered a reasonably balanced market, while balanced for refrigerated is closer to 6:1 and flatbed considers 20:1 balanced.
With LTR's above the previous five years most weeks and above the five-year average nearly every week, 2021 proved to be an exceptional year.
Currently, expect higher levels of tension in the first half of 2022. The second half of 2022 is less clear but current expectations show LTRs improving, but still higher than the 3:1 balanced market level.
Dry van LTR
The graph below displays the increased tension in the last weeks of 2021 as drivers took vacation and COVID-19 Omicron infection rates started to rise.
The first weeks of 2022 experienced record levels of tension on a national level. The map later in this report provides more detail to regional areas of tension and balance that create the national average.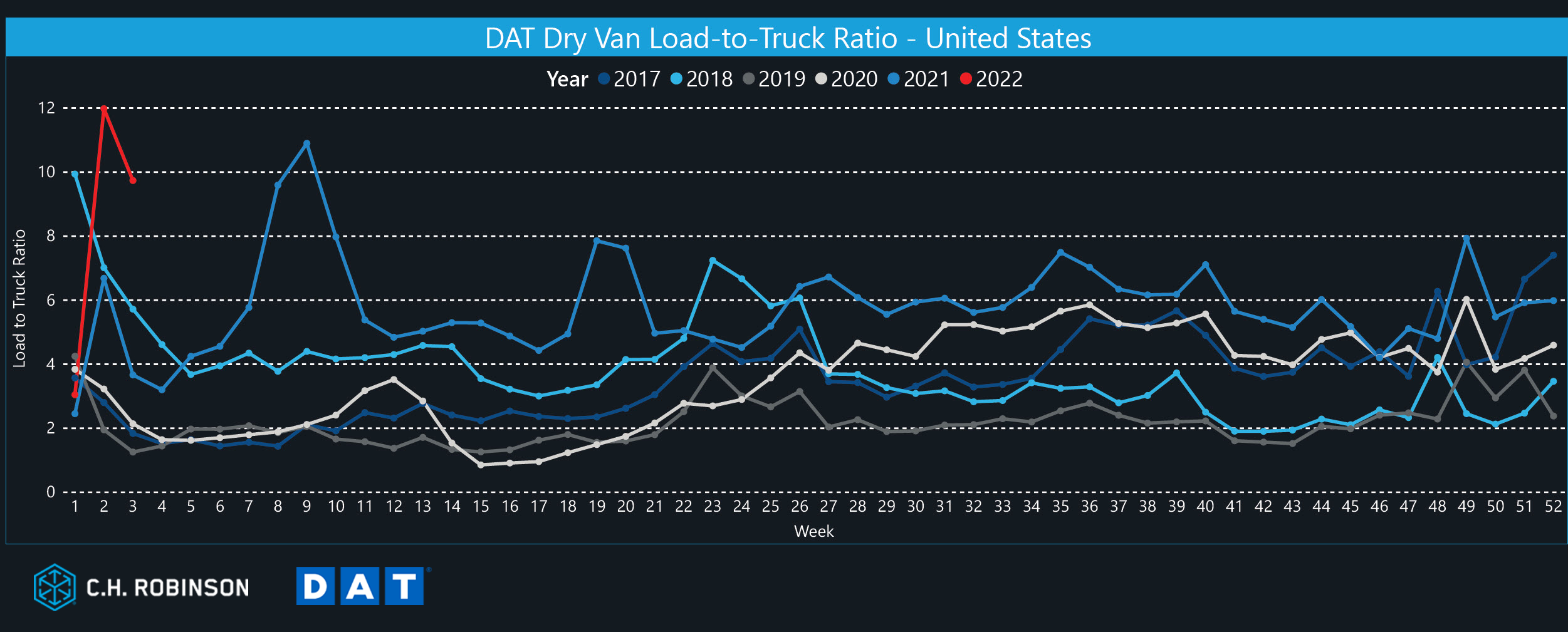 Refrigerated van LTR
Like dry van, refrigerated LTR shows a similar pattern at the end of 2021 and opening of 2022. Like dry van, refrigerated shipments have areas facing regional pressures and others closer to balance.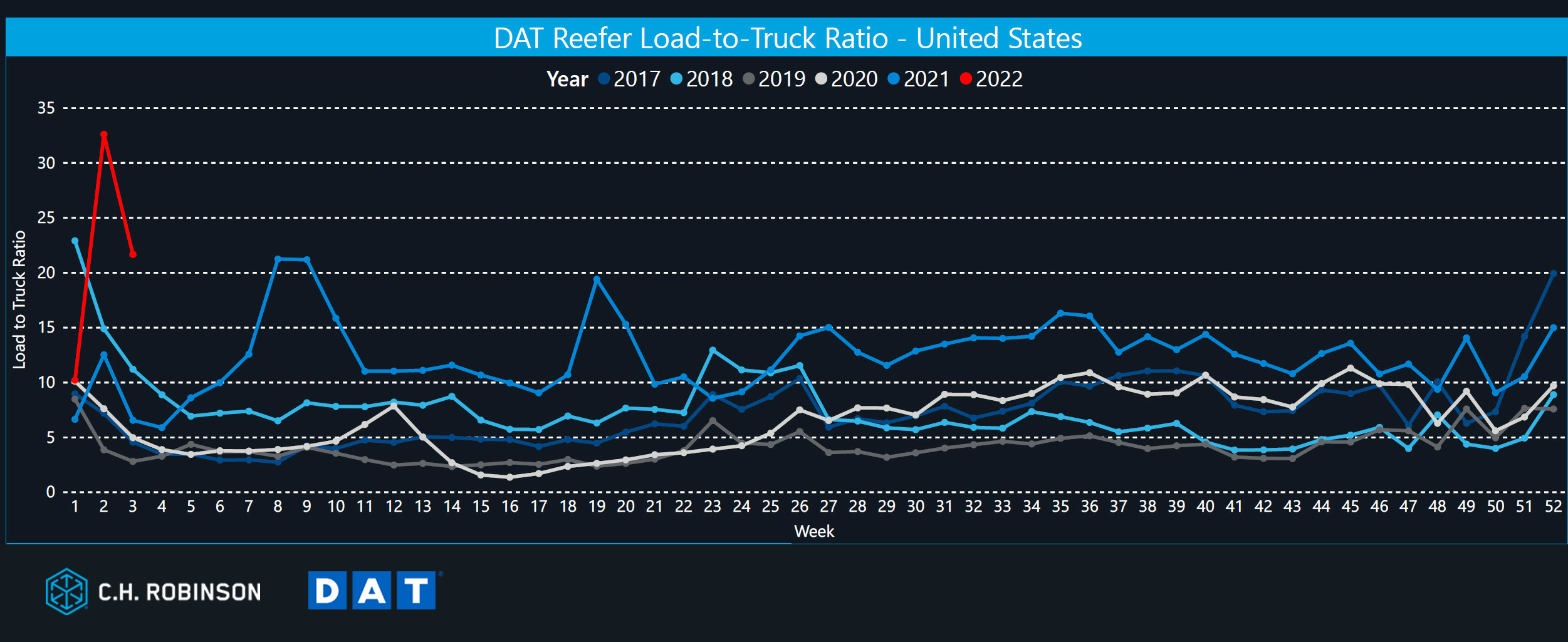 Flatbed LTR
As shown below, flatbed is experiencing a similar spike in LTR. See the flatbed section of this report for more insights on the forthcoming flatbed seasons.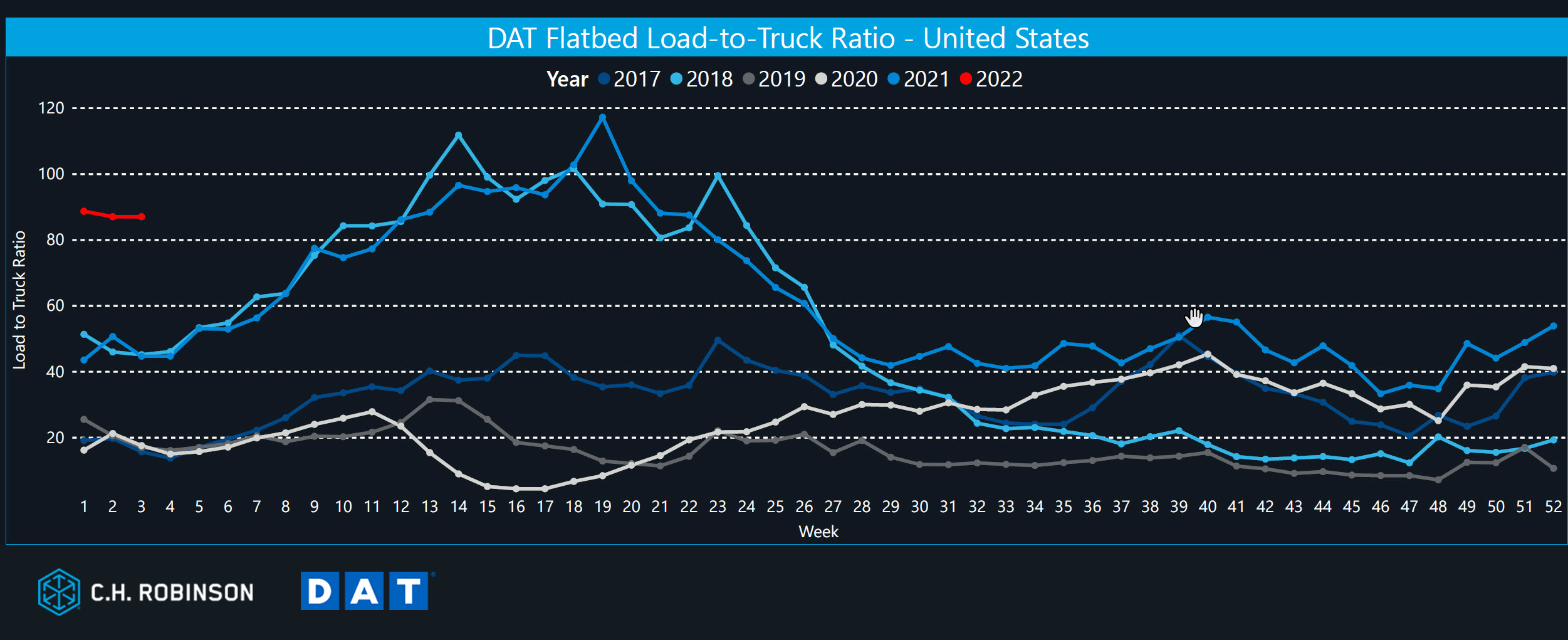 Spikes seen in the early weeks of 2022 are likely temporary due to contracted active capacity that will come back to the market with the conclusion of prolonged vacations and improvement in the COVID-19 Omicron situation.
Be proactive on shipping plans and capacity strategies. Regional inclement weather could be problematic as it was with winter weather across the country in 2021.
Dry van DAT LTR by region
The map below clearly shows high pressure in port areas, especially Southern California, cross-border Mexico, and Southeast ports.
Yellow, orange, and red regions are higher tension as they display LTR's over 3:1 (Note that yellow is up to 6.9:1)