TOP STORY: Independence Day holiday
The freight marketplace is influenced by key economic corridors, economic conditions, and supply. It is also a participant in the cycles of society. Like hurricanes, major holidays can turn into disruptive events for supply chains. C.H. Robinson continues its research on the spot and contract truckload markets around these disruptive events with insights for both.
July 4, U.S. Independence Day, falls on a Monday this year. It is just one of several key holidays that can cause disruptive ripples in the optimized routes and efforts of truck drivers who want to be home with family. Research tells us what this means for transportation.
Contract market during holidays
The contract market for truckload has a meaningful percent of its volume in hierarchical route guides built on awarded volumes at negotiated pricing.
Research sponsored by C.H. Robinson with MIT's Center for Transportation and Logistics (MIT-CTL3) on six years of route guide performance shows Independence Day had the greatest route guide variance of any other holiday.
Researchers conclude that the day of the week Independence Day falls on impacts the experience. Meaning, the load volumes offered to the market prior and post the holiday as well as the active capacity resulting from vacation time around the holiday are at play with each other, but different depending how the weekdays and weekends fall around the holiday.
Low volume lanes saw a considerable rise in average route guide depth during the event period across all years, except for 2021.

Shipments were rejected at a higher frequency than high volume lanes at levels beyond the first backup provider in the route guide.
Low volume lanes often have less predictable demand patterns, making them difficult for transportation providers to plan around and leaving them vulnerable to additional disruption.
Last year was a unique market with route guides under performing at such a level, it is plausible that Independence Day did not offer enough disruption to be noticeable.

High volume lanes can be broadly characterized as being more resilient to disruption due to tender cadence that is more predictable to awarded transportation providers.

While the performance of these lanes was similar to the Memorial Day holiday, the incremental cost for shipments not moved by the awarded provider had significant increases over the Memorial Day results.
Ultimately, what transportation planners and operations personnel need to know about route guide performance during the upcoming Independence Holiday is that the most loads to underperform will occur in the lower volume lanes.
Increases in cost for any shipments not moved by the awarded provider were noticeably higher than Memorial Day for low- and high-volume lanes.
Spot market during holidays
Depicted here is the 11-year average of spot market load to truck ratios from DAT's dry van dataset. Keep in mind, these are working days (no weekends) around the Independence Day holiday.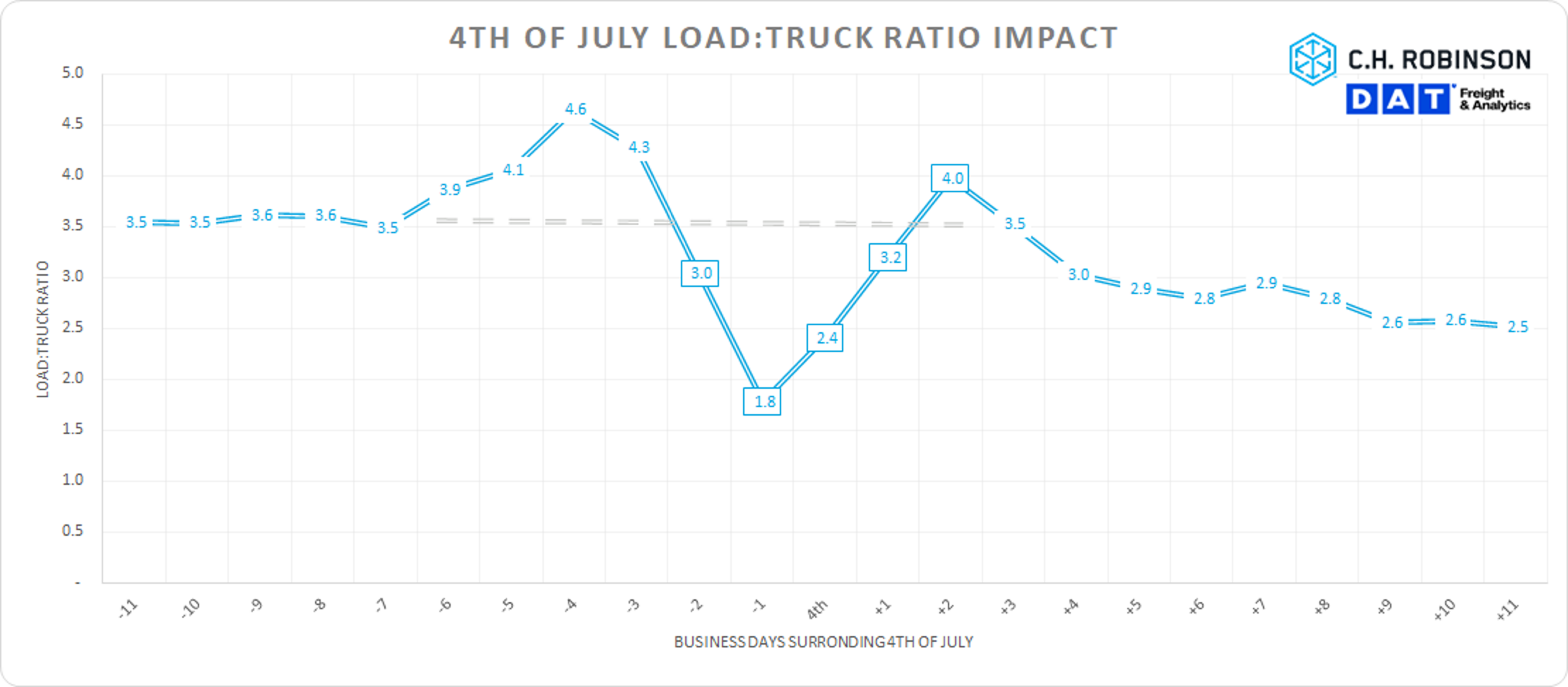 Figure: Average load to truck (LTR) ratio over 11 years. Source: DAT dry van loads posted and trucks posted for the U.S. spot market. "4th" marks the national holiday and the days prior and post the holiday are decremented and incremented. Days shown are weekdays.
The Fourth of July changes days of the week over seven years. This aggregate view does not show the impact of the holiday for this year's Monday experience. The actual experience for this year is influenced by a couple key factors:
The holiday falls on a Monday. Truck drivers get a three-day weekend like many workers in the U.S. Might the automatic three-day weekend bring capacity back to the market starting on Tuesday July 5, 2022?
The current freight market is balanced to over supplied. This condition may result in lower risk of capacity shortages on Friday July 1, 2022, and Tuesday July 5, 2022.
With these perspectives in mind for 2022, consider the historical pattern:
In the week leading up to Independence Day, the market has shown increasing load to truck ratio (driven by increased load posting activity).
The two days preceding the Fourth of July show a 'false-positive' of "loosening." This is due to extremely low load posting and truck postings as businesses and carriers slow down as the holiday approaches.
The days bordering the fourth are an average, and react very differently each year—depending on which day of the week the holiday falls.
Key insights for Fourth of July disruptions
Historically, there is much less capacity in the spot market on the two days leading up to the holiday. This year's holiday being a Monday holiday with a weekend between the two previous days (Days -1 and -2 on the above visual), means that capacity may be more readily available on Thursday and Friday.
The last time the Fourth of July was on a Monday was in 2016. That year was a loose to balanced year for the truck market, somewhat similar to today's market where load to truck ratios followed the same pattern through the time frame of Days "-6" though "+6" as shown in the above 11-year average.
Peak ratio on days "-3" and "-2" were at 3.8
Peak ratio on day "+2" was 4.1
Lower volume contracted lanes are likely the primary exposure for route guide under performance this year. And spot market tension may be less than historical averages due to the Monday holiday and current market tension.
The cost of diesel
The price of gasoline and diesel are moving so fast—reaching record heights. This is impacting truckload, LTL, intermodal, and parcel transportation. Despite this, it is important to remember that 100% of diesel expenses for a carrier are not covered by fuel surcharges.
Fuel surcharges cover the loaded miles. The miles associated with repositioning a truck between loads, finding parking at night, and beginning and ending the week are broader operational costs solely on the carrier. These costs are rising faster than pricing, especially contract pricing, which isn't renewed every week.
The smallest carrier community will likely feel the impact of rising diesel costs most heavily. These are the companies that tend to have higher empty miles per week. Should diesel pricing face a prolonged period of exceptionally high levels, carriers will need to build in the new baseline into their operations cost per mile.
The good news is there are more ways you can help carriers than by paying rate increases. Work to get carriers turned fast at facilities and help them minimize idle time so they can get to another revenue-generating load as fast as possible. For refrigerated loads, minimize the pre-cooling period to only what is necessary on dropped trailer refrigerated pre-loads.
Spot market, committed market, and capacity insights
Spot market settled into more balanced position, near 5-year average
The three primary truckload segments have seen greater balance return to the spot market load to truck ratio (LTR) with some stability in their weekly variance.
The charts below show six years of DAT's LTRs. The red line represents 2022. A 3:1 LTR for dry van can be considered a reasonably balanced market, while balanced for refrigerated is closer to 6:1 and flatbed considers 20:1 balanced. The spot market is a leading indicator of the broader contract market, providing insights to market tension and direction of evolving price.
It appears inflation, continued global supply chain disruptions, and consumer shifts from goods to services is starting to slow freight demand. In fact, some areas show month over month (M/M) declines in the growth of freight as inventories grow and 'just in case' inventory strategies are evaluated.
Spot market pricing may have largely settled at the bottom for the year pending a more dramatic economic situation than currently forecasted. The C.H. Robinson dry van spot market forecast is presented below, which represents higher pricing in the past four weeks than anticipated, but is in line with the increased LTR shown in recent weeks. Context for the recent cost per mile increases is supported by comparing the first two weeks of May to the first two weeks of June:
9% more dry van loads posted nationally for the daily average
2% more trucks posted for the daily average
LTR increased 8% as a result
Dry van LTR
The dry van LTR is in the range of a balanced market. It is currently bouncing around 4:1 nationally. A range of markets exists—from well oversupplied to as tight as 19:1 LTR. The five-year average for week 24 is about 3.5:1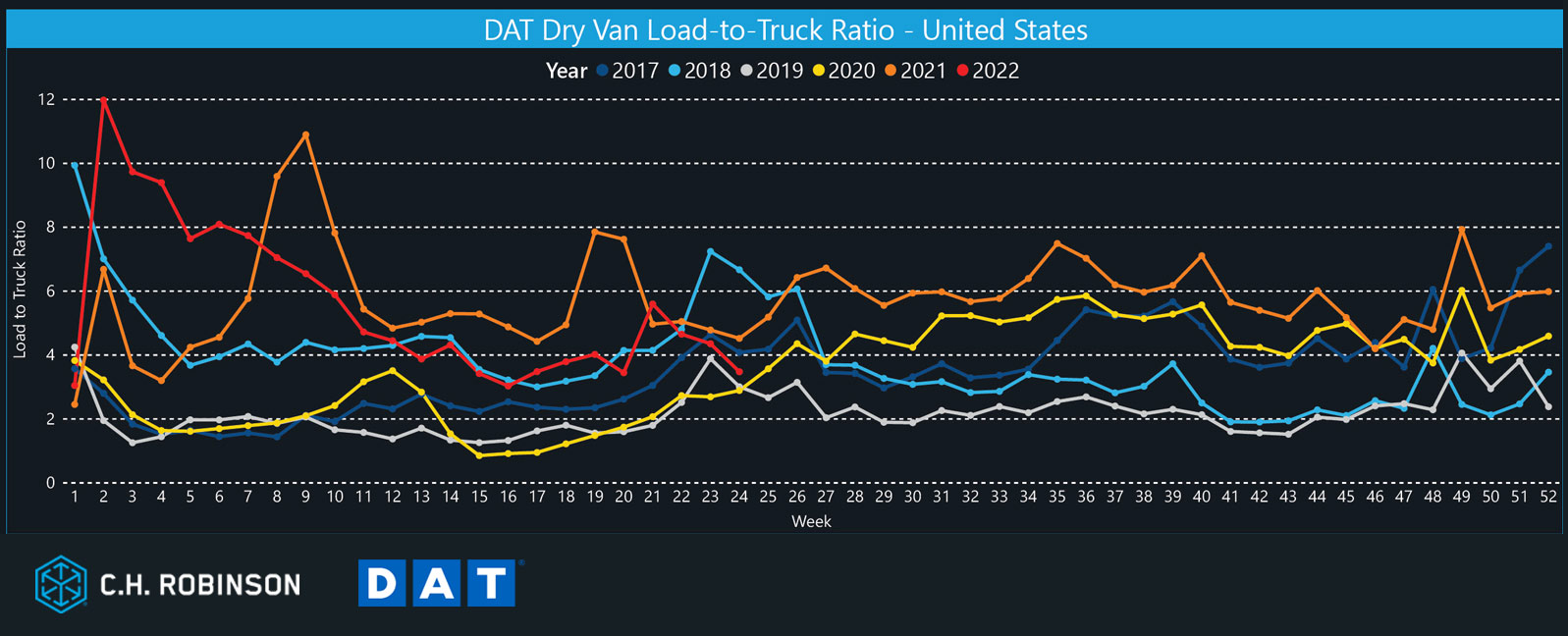 Refrigerated van LTR
Temperature controlled truckload has stabilized in the early produce season at a balanced market level of roughly 6:1. Key growing regions across the southern United States show ranges between about 20:1 to 80:1 LTR. The fresh produce harvest season appears to be less robust than most seasons because of inflation. More details are provided in the temperature controlled shipping section of the report.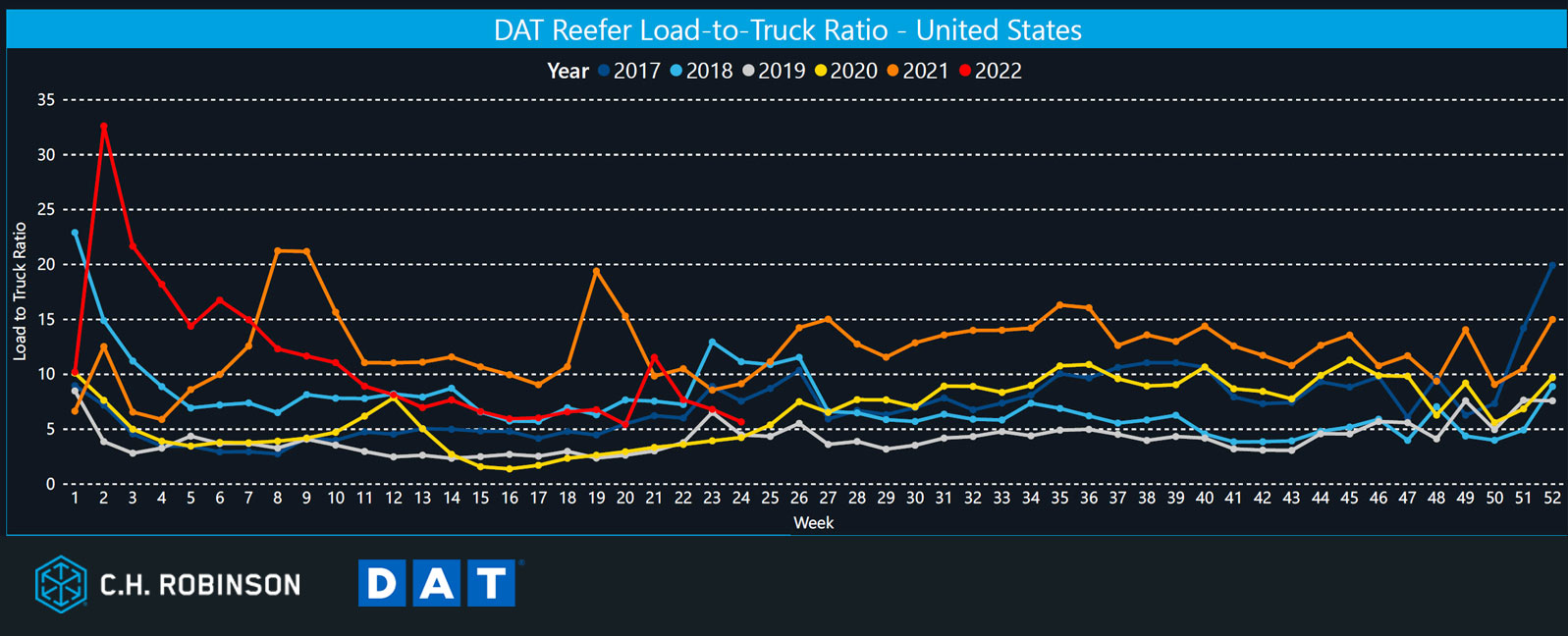 Flatbed LTR
Flatbed, like van and refrigerated capacity, has seen some market correction, but has not yet settled into the range of a more balanced market. With LTR still over 40:1, the demand for flatbed is strong. Some markets require extended lead time for capacity. The Southeast is notably tighter than other parts of the country and influences the national LTR. See the flatbed section of this report for additional insights.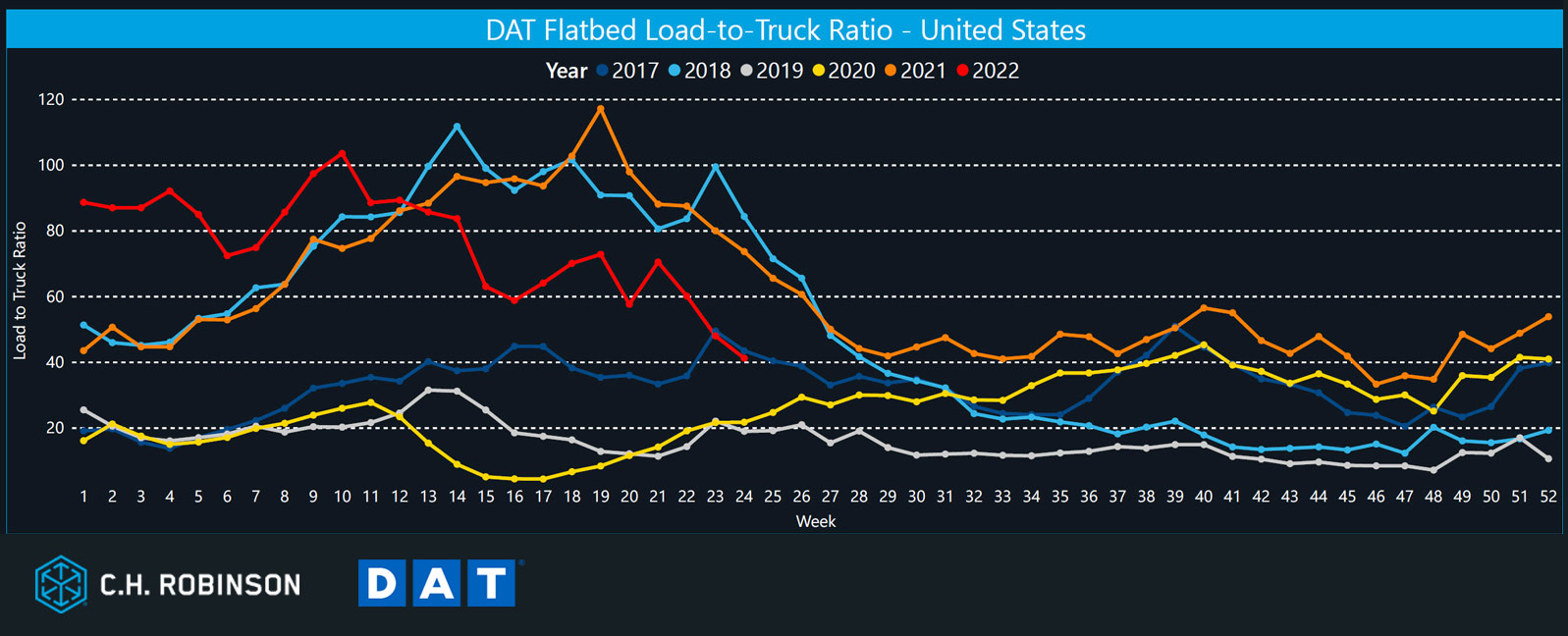 The first half of 2022 continues to offer a shifting experience as the forces of supply and demand are unfolding. It may take until July to gain a sense of what the second half of the year might look like.
Dry van DAT LTR by region
The 6-year aggregated view of the U.S. spot market above is broken down below for the dry van spot market by 3-digit ZIP code regions for the week of June 5–11, 2022. This view helps demonstrate the meaningful variance of markets—some have plentiful capacity while others struggle materially to keep up with demand.
The current national average of 3.5:1 has a range between 1:1 to over 18:1 across 3-digit ZIP code areas. Most notable is the southern United States, which is experiencing LTRs in the 5:1 to 16:1 range.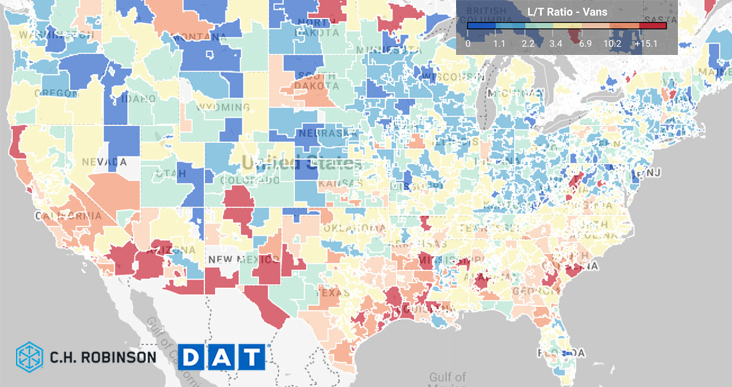 The refrigerated market is displaying a similar pattern as the van market. Again, the southern United States shows the most tension as a result of produce season. Though a muted produce season, LTRs in yellow to red zones range from 7:1 to 60:1.