EDEN PRAIRIE, MINNESOTA (August 17, 2016) — For the first time, C.H. Robinson, a global leader in third party logistics (3PL), was selected to Selling Power's 2016 50 Best Companies to Sell For list, ranking #37 tied with Google and Microsoft.
"This accolade acknowledges our journey to become a world-class sales force!" said James Santy, vice president of network sales at C.H. Robinson. "We empower our sales team members to do their jobs for their customers by providing them with the tools and training to be successful."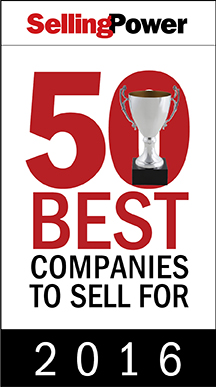 C.H. Robinson employs over 1,500 sales people globally. On a weekly basis, several offices hold trainings to practice peer-to-peer sales skills and discuss timely topics. Quarterly, the sales team works on cutting-edge sales strategies and techniques.
Companies were judged on compensation, culture, onboarding and sales-enablement strategies, training, and turnover. Selling Power magazine, the leading periodical for sales managers and sales VPs since 1981, founder and publisher Gerhard Gschwandtner says the companies on the list support excellence in sales in the following ways:
1. They support salespeople via coaching, training, and offering sales-enablement solutions.
2. They keep salespeople motivated.
3. They create an active selling culture.
This accolade is the latest of C.H. Robinson's recent wins which include being named by the readers of Inbound Logistics as its #1 3PL for a sixth year, ranked on Fortune's World's Most Admired Companies list, and awarded with the Customer Service Team of the Year from Coca-Cola amongst other customer awards.
"C.H. Robinson is a leader – both inside our industry and alongside our customers," said Santy. "Our sales force is a big reason why we're the standard. They go above and beyond for our 100,000+ customers, helping them work smarter, not harder."
About C.H. Robinson
At C.H. Robinson, we believe in accelerating global trade to seamlessly deliver the products and goods that drive the world's economy. Using the strengths of our knowledgeable people, proven processes and global technology, we help our customers work smarter, not harder. As one of the world's largest third-party logistics providers (3PL), we provide a broad portfolio of logistics services, fresh produce sourcing and Managed Services for more than 110,000 customers and 68,000 contract carriers through our integrated network of 280 offices and more than 13,000 employees. In addition, the company, our Foundation and our employees contribute millions of dollars annually to a variety of organizations. Headquartered in Eden Prairie, Minnesota, C.H. Robinson (CHRW) has been publicly traded on the NASDAQ since 1997. For more information, visit http://www.chrobinson.com or view our company video.