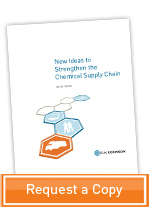 Discover how chemical companies achieve supply chain success. Learn More
Find unbeatable solutions for chemical transportation with ChemSolutions®. Combining unmatched bulk equipment options, processes for better execution, and the first global technology platform that offers visibility wherever you do business. Get the delivery assurance and actionable business intelligence that helps minimize your risk when transporting hazardous materials.
Coordinate with chemical transport experts to safely transport your chemical materials:
Employ Responsible Care

®

ISO 14001 practices for safe, responsible, and sustainable management of chemicals through their entire life cycle
Support change management throughout your organization—customer service, finance, sourcing, and plant managers—while assuring operational flexibility
Obtain end to end, global visibility with our single global platform of TMS technology plus managed services through Managed TMS

®

Simplify the chemical transportation process, analyze and reduce spend, and build efficiencies
Satisfy both same-day and as-needed customer requirements
Track chemical shipments from origin to destination
ChemSolutions is a Responsible Care® Partner, which has endorsed the same guiding principles and implemented the same performance initiative, certified by a third party, as each member of the American Chemistry Council.
Registered trademarks are the properties of their owners.